Taz Series
Tazmania GG Hints Cheats CS-G CS-MD BS-G BS-MD
Taz In Escape From Mars GG Cheats CS-G BS-G
Taz In Escape From Mars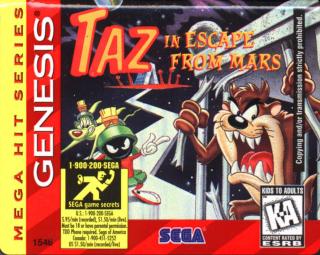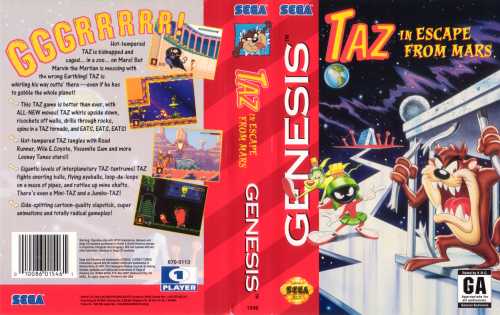 Game Genie™ Codes For Taz In Escape From Mars
Download PAT File
#
Code
Description
1
ABLB-RACA
Start with no continues
2
AFLB-RACA
Start with 1 continue
3
AKLB-RACA
Start with 2 continues
4
AVLB-RACA
Start with 4 continues
5
AZLB-RACA
Start with 5 continues
6
A7LB-RACA
Start with 7 continues
7
BFLB-RACA
Start with 9 continues
8
AKLB-RA70
Infinite continues
9
A5LB-SJ7C
Start level with rock power-up
10
AMLB-SJ7C
Start level with flame power-up
11
AMLB-RA4W
Keep power-ups after you die
12
ALJB-4A9R
No one loses any energy-Including enemies
13
ABLB-RABY
Start with 1 life
14
AFLB-RABY
Start with 2 lives
15
AVLB-RABY
Start with 5 lives
16
A3LB-RABY
Start with 7 lives
17
BBLB-RABY
Start with 9 lives
18
AKLB-RA64
Infinite lives
Cheats For Taz In Escape From Mars
#
Type
Description
1
Level Select and Restore Health
At the Sega logo, simultaneous press and hold A+B on controller one and B+C on controller two. You should hear a bark. Start a game and pause it. Press A and a debug menu appears with options to restore your health and pick any stage you want.
Excerpt from Genesis Game Guide by The Scribe
NAME:             Taz series (2 titles)
AUTHOR/VENDOR:    Headgames
RELEASED:         various
TYPE:             Platform
LANGUAGE:         English

PREMISE:          Arcade-style platformers inspired by the syndicated
                  animated series by Warner Brothers.  The show concerned
                  the misadventures of the Tasmanian Devil, aka "Taz," and
                  his family in his native New Zealand.

IMPRESSIONS:      With graphics and plots pulled straight from the TV show,
                  how could you go wrong?  Easy - poor level design and
                  difficult game control, which gets frustrating fast.  As
                  Rage Games said in their reviews, "Sega, why for you bury
                  Taz in the cold, cold ground?"

VARIATIONS:       Taz-Mania (1992)
                  Taz in Escape from Mars (1994)

Page Viewed 9067 Times

"Taz Series" | Login/Create Account | 5 comments
The comments are owned by the poster. We aren't responsible for their content.
Re: Taz Series (Score: 1)
by CrossBow (crossbow@emuviews.com) on Tuesday, August 21 @ 13:15:38 EDT
(User Info)
Okay I have serious problems with this game. The graphics are very colorful and keep well to the Toon land feel. The sound is well done and ripped straight from the cartoons. But the gameplay sucks. I still can't believe that this game was allowed to be released when it is possilbe to get stuck in places you can't even get out of! First level is the worst (of what I have played so far) in this regard. You will most likely have to use the cheats just to keep the frustation level to a minimum.
Re: Taz Series (Score: 1)
by SamuraiJohn on Wednesday, April 24 @ 11:57:47 EDT
(User Info) http://www.angelfire.com/weird/john2001
I have this, and i get stuck in the game eary in the game... Its very nice graphics.. looks almost like te Cartoon! but its fun (from what i was able to play) i need to get cheats!
Re: Taz Series (Score: 1)
by deaddudegod on Wednesday, August 07 @ 23:54:35 EDT
(User Info)
The first game was (and still is) great fun, but the second one was missing something...oh yeah, gameplay.
Re: Taz Series (Score: 1)
by damin3 on Saturday, April 12 @ 09:37:43 EDT
(User Info)
man this game is sooo fun too play too
Copyright © 1999-2002 by Genesis Collective