Space War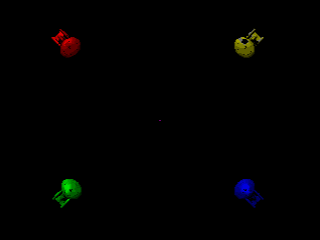 Excerpt from Genesis Game Guide by The Scribe
NAME:             Space War (public domain)
AUTHOR/VENDOR:    Kevin Banks
RELEASED:         1998
TYPE:             Shooter
LANGUAGE:         English

PREMISE:          A shareware clone of the popular arcade game featuring
                  the starship Enterprise from Star Trek - The Next
                  Generation as the ship of choice.

IMPRESSIONS:      Appears to be in an early alpha stage, so it sucks by any
                  comparison.  It might be all right if it's ever finished,
                  but the author's going to have to lose the multiple
                  Enterprises for obvious legal reasons.

Page Viewed 944 Times

"Space War" | Login/Create Account | 0 comments
The comments are owned by the poster. We aren't responsible for their content.
Copyright © 1999-2002 by Genesis Collective