Exo-Squad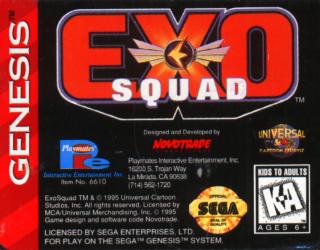 Excerpt from Genesis Game Guide by The Scribe
NAME:             Exo-Squad
AUTHOR/VENDOR:    Novotrade/Playmates
RELEASED:         1995
TYPE:             Action
LANGUAGE:         English

PREMISE:          A graphically impressive arcade game based on the
                  syndicated animated TV series of the same name about a
                  war between humanity and its genetically derived
                  offshoot, the Neo-Sapiens.

IMPRESSIONS:      A pretty even mix of fighting, shooting, and platform
                  action from both side-scroll and first-person
                  perspectives.  Some of the mini-games are better than
                  others - the 3D first-person shooter is the best I've
                  ever seen on a stock Genesis, whereas the platform games
                  seem kinda slow.  All told, though, it's an enjoyable
                  experience.

Page Viewed 2235 Times

"Exo-Squad" | Login/Create Account | 3 comments
The comments are owned by the poster. We aren't responsible for their content.
Re: Exo-Squad (Score: 1)
by Sparxster (webmaster@rocketknight.com) on Friday, November 23 @ 04:12:02 EST
(User Info) http://www.geocities.com/sparkster5233/index.html
THIS IS AN AWESOME GAME! I really loved this one, its got 3 genres in one! a platformer, a fighting round, and a shooter! the graphics are awesome and the story is great, YOU MUST GET THIS!!!!!!
[ Reply ]
Re: Exo-Squad (Score: 1)
by Genesisblackbelt on Monday, July 22 @ 09:42:30 EDT
(User Info)
Yes this is the best game ever. buy it now! 9.5
[ Reply ]
Re: Exo-Squad (Score: 0)
by Anonymous on Sunday, November 16 @ 15:17:46 EST
Exo-Squad Should Be Re-Released For Play Station 2, X-Box, Nintendo Gamecube, & Game Boy Advance. Its About That The Exo Fleet, Battles Againt the Evil Forces of The Neo Sapians for Controll Of the Universe.

This Comment is Written By D.Kinman
[ Reply ]
Copyright © 1999-2002 by Genesis Collective