David Robinson's Supreme Court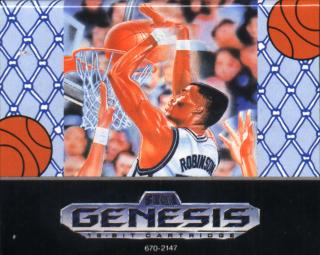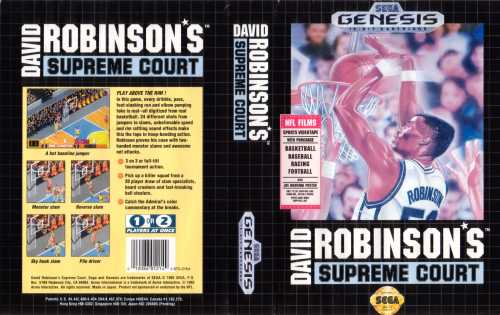 Cheats For David Robinson's Supreme Court
#
Type
Description
1
Change Game Length
To adjust the length of your game, enter the Options menu. Next press and hold A, B and C. You can now adjust the quarter lengths from 15 minutes to 20 seconds.
Passwords For David Robinson's Supreme Court
#
Password
Description
These codes will take you into the final games as you play against the computer. Once you win one of these games you can then play against "Robinson's All Stars". Use these codes on the password screen.
1
CABCDEA1F
L.A.Vs. Detroit
2
ASTURBQ1E
Chicago Vs. New York
3
FMJCLJY1B
New York Vs. Detroit
4
WYBCDEAYU
Detroit Vs. L.A.
5
IIDSREQ3R
Championship Game
6
IIDSREQUS
Most Valuable Player
David Robinson's Basketball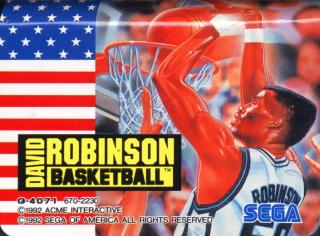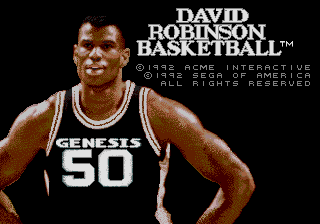 Excerpt from Genesis Game Guide by The Scribe
NAME:             David Robinson's Supreme Court
AUTHOR/VENDOR:    ACME Entertainment
RELEASED:         1992
TYPE:             Sports (basketball)
LANGUAGE:         English and Japanese

PREMISE:          YACEG endorsed by "The Admiral" himself - a fella who I
                  remember well from back during my plebe year at the U.S.
                  Naval Academy.

IMPRESSIONS:      With all due respect to Mr. Robinson, this is definitely
                  not the best basketball sim available for the Genesis.
                  Oh, it's decent enough in the popular arcade style of
                  play that some prefer, but it's no Coach K and seems
                  rather weak in comparison.  That's a shame - Dave is a
                  great guy, and he deserves better than this.  At least
                  the NBA Action series came along to redeem the value of
                  his endorsement.

VARIATIONS:       David Robinson Basketball (Japanese release)

Page Viewed 2146 Times

"David Robinson's Supreme Court" | Login/Create Account | 1 comment
The comments are owned by the poster. We aren't responsible for their content.
Re: David Robinson's Supreme Court (Score: 0)
by Anonymous on Thursday, November 18 @ 10:53:37 EST
how are you my names is Samantha my sister say like you she like spur bestfirends and i see you later
[ Reply ]
Copyright © 1999-2002 by Genesis Collective