Battle Mania Series
Battle Mania
Trouble Shooter GG Cheats CS-G BS-G
Battle Mania
Trouble Shooter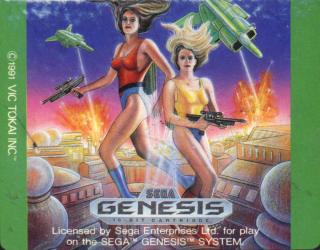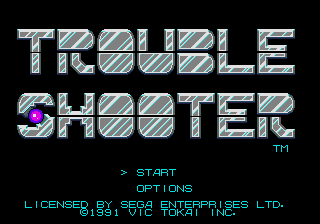 Game Genie™ Codes For Trouble Shooter
Download PAT File
#
Code
Description
This is a challenging sci-fi-themed shooter with a wide variety of weapons, fast action and good graphics. Without codes, you start with only four life units on the life meter, which makes it difficult to go on and rescue King Fredrick's son from Blackball. With Codes 2 thru 10, you can decide how many life units you start with, and make the game easier or harder to suit your taste. Codes 14 thru 18 let you change the number of starting credits from the normal two.
1
ATBT-AA4J
MASTER CODE--MUST BE ENTERED
WITH CODES 2 THRU 9, LIFE UNIT NUMBERS CHANGE WHEN YOU ALSO USE CODE 28 TO START ON LAST STAGE
2
AFDT-AAGW
Start with 1 life unit
3
AKDT-AAGW
Start with 2 life units
4
APDT-AAGW
Start with 3 life units
5
AZDT-AAGW
Start with 5 life units
6
A3DT-AAGW
Start with 6 life units
7
DFDT-AAGW
Start with 25 life units
8
GKDT-AAGW
Start with 50 life units
9
NPDT-AAGW
Start with 99 life units
10
AL1T-CA7N
Infinite life on the life meter
11
SCMT-DJ1Y
Special weapon recharges itself 2x as fast
12
SCMT-DT1Y
Special weapon recharges itself 4x as fast
13
SCMT-DA1Y
Special weapon recharges itself 8x as fast
14
ABDT-AAFE
Start with 1 credit
15
AVDT-AAFE
Start with 5 credits
16
A3DT-AAFE
Start with 7 credits
17
BBDT-AAFE
Start with 9 credits
18
AMZA-CA7J
Infinite credits
19
APDT-AAGA
Start with more firepower
20
A7DT-AAGA
Start with maximum firepower(less than max on continues)
21
HC1T-DT16
Firepower items are worth more
22
APDT-AAF4
Start with more speed
23
A3DT-AAF4
Start with much more speed!
24
ABDT-ACE8
Start on stage 2
25
ABDT-AEE8
Start on stage 3
26
ABDT-AGE8
Start on stage 4
27
ABDT-AJE8
Start on stage 5
28
ABDT-ALE8
Start on last stage
Cheats For Trouble Shooter
#
Type
Description
1
Level Select
Getting into Trouble's a little easier with this trick. From the title screen, use Controller Two to press and hold RIGHT, C and START simultaneously. A stage selection icon should appear. Press RIGHT, C and START simultaneously to adjust the level number, and press START to begin your mission.
Excerpt from Genesis Game Guide by The Scribe
NAME:             Battle Mania series (2 titles)
AUTHOR/VENDOR:    Vic Tokai
RELEASED:         various
TYPE:             Action
LANGUAGE:         English and Japanese

PREMISE:          Mania Ohtori and Maria Waneda aren't just your average
                  gorgeous-looking babes with a bit of an attitude.  They
                  are in truth the infamous mercenary team of Madison and
                  Crystal, better known as the Trouble Shooters, who will
                  take on any job for the right amount of money.  This
                  is an apparent take on the popular Japanese manga/anime
                  series Dirty Pair.

IMPRESSIONS:      A cute Japanese shooter with only passable graphics,
                  gameplay, and weapons systems.  Otaku can take it out for
                  a spin, otherwise avoid. (Rage Games)

VARIATIONS:       The first game were released in English-speaking markets
                  under the title of Trouble Shooter.  There is some
                  speculation as to whether or not the second title was
                  ever released in an English language version.

                  Battle Mania (1992, aka Trouble Shooter - Madison and
                    Crystal are called into an unnamed foreign country to
                    find the assasins of the king's son, and as expected
                    shoot and blow up the whole place in the process)
                  Battle Mania 2 (1995, aka Trouble Shooter Vintage - the
                    girls take on an powerful enemy who is bent on taking
                    over the city with the help of an array of both bestial
                    and high-tech stooges)

Page Viewed 4673 Times

"Battle Mania Series" | Login/Create Account | 2 comments
The comments are owned by the poster. We aren't responsible for their content.
Re: Battle Mania 2 (Score: 1)
by beavischrist on Sunday, March 14 @ 17:52:17 EST
(User Info)
BM2 is better than the first and may be worth hunting down.
[ Reply ]
Re: Battle Mania Series (Score: 0)
by Anonymous on Thursday, May 20 @ 17:09:37 EDT
This game plays like Forgotten Worlds but with characters that tend to "mock" the girls from Dirty Pair.

The first game has a cutesy look, although a little ugly in some parts, which was very fun, but way too easy and fairly short.

The second game (Japan only) is just as good, if not better; The visuals, music, and gameplay have improved, and there is more of a story worked into it than the previous game.

This game was sadly forgotten over the years. It's too bad we never got the second (Only Trouble Shooter/Battle Mania 1). It deserved a TV show and even a manga series. I hope someone revives it. >.<;
[ Reply ]
Copyright © 1999-2002 by Genesis Collective