Bubba N Stix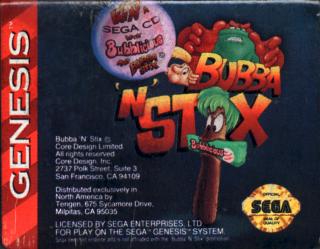 Excerpt from Genesis Game Guide by The Scribe
NAME:             Bubba and Stix
AUTHOR/VENDOR:    Core Design
RELEASED:         1995?
TYPE:             Platform
LANGUAGE:         English

PREMISE:          Core does their own rendition of a Toejam and Earl style
                  game.  Bubba the redneck and his wooden pal Stix are lost
                  on an alien planet, and have to figure out how to get
                  back home.

IMPRESSIONS:      A weird little platformer featuring lots of eye candy
                  and lots of annoyingly frustrating puzzles to solve -
                  too many for my tastes.

Page Viewed 1384 Times

"Bubba And Stix" | Login/Create Account | 1 comment
The comments are owned by the poster. We aren't responsible for their content.
Re: Bubba And Stix (Score: 1)
by SIR (steve@irving6697.freeserve.co.uk) on Saturday, December 27 @ 21:56:12 EST
(User Info) http://Freeserve
This is one weird game with parts borrowed from various games, worth a look because I found that when I got used to using the stick it became quite fun. If the platform games that you have are becoming tired - try this out because it offers something different.
[ Reply ]
Copyright © 1999-2002 by Genesis Collective