Block Out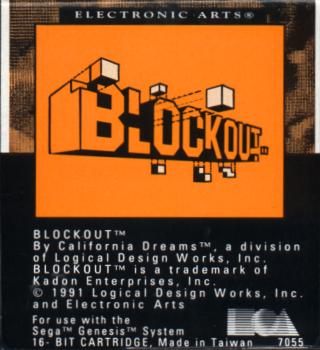 Excerpt from Genesis Game Guide by The Scribe
NAME:             Block Out
AUTHOR/VENDOR:    California Dreams/Electronic Arts
RELEASED:         1991
TYPE:             Puzzle
LANGUAGE:         English

PREMISE:          A 3D Tetris clone, but this time you spin your playing
                  pieces about all three axes as you use them to fill up
                  a deep well.

IMPRESSIONS:      Ugly as sin and sluggish, but great gameplay.

Page Viewed 1267 Times

"Block Out" | Login/Create Account | 3 comments
The comments are owned by the poster. We aren't responsible for their content.
Re: Block Out (Score: 1)
by scool1000 (69@x.com) on Wednesday, April 24 @ 18:48:52 EDT
(User Info)
coping tetris in a 3d way but a little cool
[ Reply ]
Re: Block Out (Score: 1)
by beach13 on Saturday, April 27 @ 21:44:14 EDT
(User Info)
I don't know what it is, but I love this game. The game is simple in design, the graphics are very average, but the game play is so addictive! I like the 3-D puzzle mode the best. I recommend this game for any puzzle lover.
[ Reply ]
Re: Block Out (Score: 1)
by deaddudegod on Sunday, August 04 @ 16:04:26 EDT
(User Info)
If you can't find Tetris, then this is a very acceptable substitute! Still highly enjoyable.
[ Reply ]
Copyright © 1999-2002 by Genesis Collective