Ys 3 - Wanderers From Ys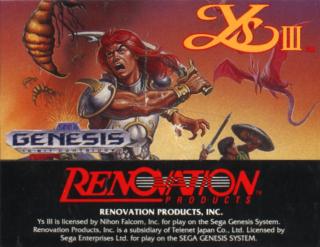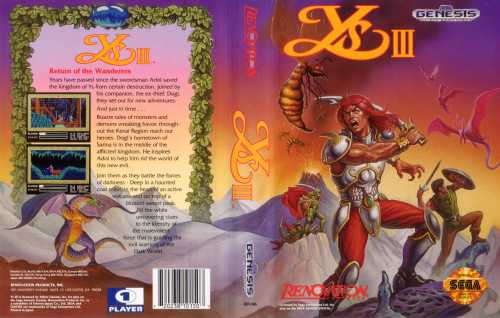 Cheats For Ys 3 - Wanderers From Ys
#
Type
Description
1
Invincibility
When the SEGA logo appears, press and hold UP on Controller Two. When the game begins, you may regain all health by going to the Status window and holding C while pressing UP, DOWN.
Excerpt from Genesis Game Guide by The Scribe
NAME:             Ys 3 - Wanderers from Ys
AUTHOR/VENDOR:    Falcom
RELEASED:         1991
TYPE:             RPG
LANGUAGE:         English and Japanese

PREMISE:          The third installment in the popular Ys series of RPGs
                  (and the only one for the Genesis) finds our heroes
                  travelling to the town of Kenai, where a mysterious evil
                  has taken root.

IMPRESSIONS:      Great graphics, great sound, good gameplay, and an
                  intriguing plot (albeit a gawdawful long intro to wade
                  through - good thing you can skip it).  This is one of
                  the all-time best Genesis RPGs, and is a heckuva lot
                  better than that laughable SNES version....

VARIATIONS:       The original, Ys 1 - Vanished Omens, is available for
                  the Sega Master System.  The sequel, Ys 4 - Mask of the
                  Sun, is available for the Mega CD.  The second Ys game
                  does not appear to have been released for any Sega
                  platform.

Page Viewed 2444 Times

"Ys 3 - Wanderers from Ys" | Login/Create Account | 0 comments
The comments are owned by the poster. We aren't responsible for their content.
Copyright © 1999-2002 by Genesis Collective