The Adventures Of Batman And Robin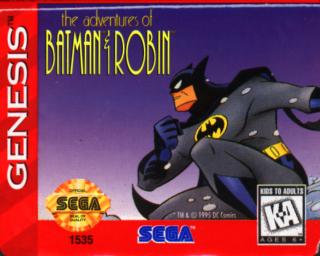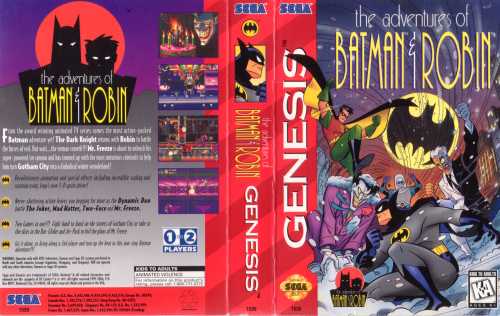 Game Genie™ Codes For The Adventures Of Batman And Robin
Download PAT File
#
Code
Description
1
ACSA-AADL
Start with 1 life
2
BGSA-AADL
Start with 10 lives
3
AGSA-AADT
Start with 1 credit
4
BGSA-AADT
Start with 9 credits
5
C2CA-CA5C
Infinite life points
6
AJCA-CA6W
Infinite lives
7
AJFA-CA8C
Weapon does not discharge
8
A28T-DE2N
Weapon gets full power on first power up
9
A4SA-AAD6
Start with weapon at level 6 firepower
10
AGSA-AAD0
Start with Shuriken instead of Batarang
11
ALSA-AAD0
Start with Bolo instead of Batarang
Cheats For The Adventures Of Batman And Robin
#
Type
Description
1
Skip Stage
To skip to the next stage, pause the game and press B, A, Down, B, A, Down, Left, Up, C.
Excerpt from Genesis Game Guide by The Scribe
NAME:             Batman and Robin, The Adventures of
AUTHOR/VENDOR:    Konami
RELEASED:         1995
TYPE:             Action
LANGUAGE:         English

PREMISE:          Once again, deadly peril threatens Gotham City.  Three of
                  of the city's top criminals (The Joker, Two-Face, and the
                  Mad Hatter) have escaped from Arkham Asylum and are
                  teaming together to bring the city under their iron
                  control.  Once again, the Dynamic Duo must leap into the
                  breach and save the people from this terrible threat.  An
                  original game inspired by the hit Warner animated series.
                  Based on the original characters created by Bob Kane for
                  DC Comics.

IMPRESSIONS:      At long last!  A game worthy of the title it bears!  A
                  3D action platformer with great graphics and animation
                  culled directly from the TV show.  This is the ONLY
                  Batman game for the Genesis that you will ever need.

VARIATIONS:       All versions of this game feature the same European
                  technosynth soundtrack that is quite different from the
                  music that was used in the original animated series.
                  This was corrected on the Amercian SNES port, but not so
                  for American Genesis owners.

Page Viewed 4778 Times

"Batman And Robin" | Login/Create Account | 8 comments
The comments are owned by the poster. We aren't responsible for their content.
Game Genie codes for Batman And Robin (Score: 1)
by Pascal on Thursday, February 27 @ 18:40:43 EST
(User Info)
From my attempts to hack some codes for this game, I have a couple Game Genie codes to add to the list:

Max batarangs on pickup
A28A-DE90
Keep batarangs on death
A2CA-CA68

Re: Batman And Robin (Score: 1)
by CrossBow (crossbow@emuviews.com) on Tuesday, August 07 @ 13:23:14 EDT
(User Info)
The Scribe hits dead on with this one. I actually like both the first Batman and the Adventures of for the Genesis. Those are really the only two you need. Only major complaints I see with Adventures of Batman and Robin for the Genesis is that is gets on the really insanely difficult side with enemies popping out from all places. I also think the controls are a bit laggy. Overall though highly addictive!
Re: Batman And Robin (Score: 1)
by dane_martin on Tuesday, April 30 @ 21:34:59 EDT
(User Info) http://danepenguin.blogspot.com
This is a surprisingly decent sidescrolling beat 'em up. Featuring graphics faithful to the series the game is based upon, the game is just plain enjoyable. There's nothing here that hasn't been done before, but it's a nice fare nonetheless.
Re: Batman And Robin (Score: 1)
by scool1000 on Tuesday, April 23 @ 16:00:09 EDT
(User Info)
Good game but some ok graphics
Copyright © 1999-2002 by Genesis Collective