Japan League Pro Striker Series
Japan League Pro Striker 2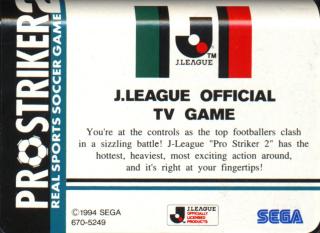 Excerpt from Genesis Game Guide by The Scribe
NAME:             Japan League Pro Striker series (3 titles)
AUTHOR/VENDOR:    Sega
RELEASED:         various
TYPE:             Multilanguage
LANGUAGE:         Japanese

PREMISE:          Sega's in-house soccer sim for the Japanese market.

IMPRESSIONS:      Does it play like FIFA?   Yes.  Does it sound like FIFA?
                  Yes.  Does it look like FIFA?  No, the game texts are all
                  in Japanese and the playing field is viewed via top-side
                  pseudo 3D slant view instead of isometric.  That's the
                  only real difference that matters.  This series starts
                  good and gets better as it goes, with Final Stage being
                  the equal of the latter FIFA games.  Now, if only it were
                  in English....

VARIATIONS:       This series is also commonly referred to as the J-League
                    Pro Striker or the Pro Striker series.

                  Japan League Pro Striker 93 (1993, also referred to as
                    Japan League Pro Striker)
                  Japan League Pro Striker 2 (1994)
                  Japan League Pro Striker - Final Stage (1995)

Page Viewed 2714 Times

"Japan League Pro Striker Series" | Login/Create Account | 1 comment
The comments are owned by the poster. We aren't responsible for their content.
Re: Japan League Pro Striker Series (Score: 1)
by Kimbal on Monday, July 16 @ 07:50:48 EDT
(User Info)
This game bring back my memories...
This is the first game that I can play with my three cousins together at the same time!

Besides the multiplayer support, this game also offer a easy control system, and also, the graphics and sound is also on mega drive standard.

If you like the real J-league, you would love this game!
[ Reply ]
Copyright © 1999-2002 by Genesis Collective