Beast Wrestler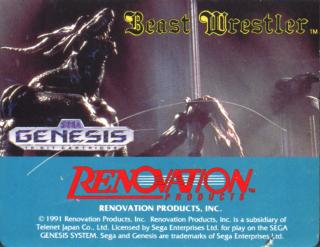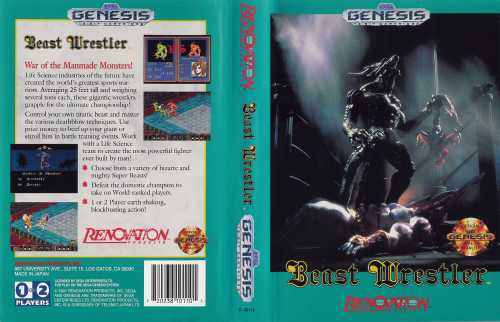 Cheats For Beast Wrestler
#
Type
Description
1
Sound Test
When the title screen appears, simultaneously press A, B and C, then press START. When the word "Test" appears in the lower left-hand corner, press UP and DOWN to change the sounds. Press A to select a sound, and B to exit the sound test.
Beast Warrior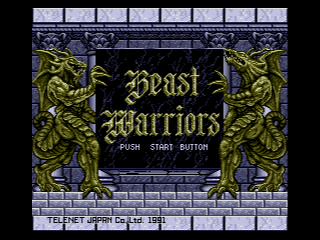 Excerpt from Genesis Game Guide by The Scribe
NAME:             Beast Wrestler
AUTHOR/VENDOR:    Telnet Japan
RELEASED:         Sega
TYPE:             1991
LANGUAGE:         Fighting

PREMISE:          An isometric Street Fighter clone featuring monsters,
                  aliens, cyborgs, and demons.

IMPRESSIONS:      It's...well, ahh, umm...unique...you know...uhh...
                  unique.  The isometrics take some getting used to, and
                  many of the fighters and their attacks are downright
                  weird.  Uhhh...I think, umm, it's okay - in a strange
                  sort of way - but it's not something I'm gonna spend a
                  lot of time playing.

VARIATIONS:       Beast Warriors (non-American markets)

Page Viewed 3231 Times

"BeastWrestler" | Login/Create Account | 3 comments
The comments are owned by the poster. We aren't responsible for their content.
Re: BeastWrestler (Score: 1)
by PACHUKA (egray@!nospam!-3do.com) on Sunday, February 03 @ 19:28:44 EST
(User Info) http://www.cultchyldren.com
THIS GAME ROXORS YOUR BOXORS!!!

You get to mutate your characters with others you beat!!
[ Reply ]
Re: BeastWrestler (Score: 1)
by Genesisblackbelt on Wednesday, July 17 @ 17:58:18 EDT
(User Info)
THIS GAME ROXORS MY SOXORS
[ Reply ]
Re: BeastWrestler (Score: 0)
by Anonymous on Sunday, November 16 @ 17:14:45 EST
off course, the mutation thingy is the only good part of the game whatsoever
[ Reply ]
Copyright © 1999-2002 by Genesis Collective