Tecmo Cup Football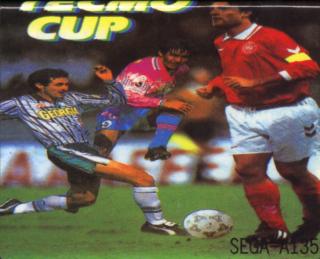 Excerpt from Genesis Game Guide by The Scribe
NAME:             Tecmo Cup Football
AUTHOR/VENDOR:    Tecmo
RELEASED:         1992
TYPE:             Sports (soccer)
LANGUAGE:         English and Japanese

PREMISE:          Young Robert had a dream - to play on a World Cup soccer
                  team.  His childhood is now behind him, but the dream
                  remains.  Robert is now an acclaimed soccer player, and
                  his team has just qualified for the World Cup.  It's up
                  to Robert and his teammates to see that the dream comes
                  true.

IMPRESSIONS:      Make no mistake about it - this is a slightly retooled
                  version of the highly acclaimed Japanese cinematic soccer
                  game known as Captain Tsubasa, based on the long-running
                  manga/anime series created in 1992 by Yoichi Takahashi.
                  My copy is the English one (thanks, Zhenying Wu!), which
                  means that the character art has been modified and
                  Occidental names substituted for the oriental ones.  That
                  doesn't matter - I can spot a Tsubasa game regardless of
                  minor mods, and this one is every bit as good as its SNES
                  counterparts.

VARIATIONS:       Captain Tsubasa (Japanese, existence unconfirmed)

                  This may be a simplified version of the Mega CD game; see
                  separate entry.

Page Viewed 2080 Times

"Tecmo Cup Football" | Login/Create Account | 4 comments
The comments are owned by the poster. We aren't responsible for their content.
Tecmo Cup Football (Score: 1)
by asergio on Wednesday, September 12 @ 09:18:48 EDT
(User Info)
Great soccer sim game, but different to each other. Instead of normally playing a game, you will make decisions when you cross against a player from the other team. For example pass, dribble, make a one two, or shoot. It is a clone of Captain Subasa which I remember had two versions in the old Nes sistem. Good graphics, sound and gameplay.
Mark: 7,50
[ Reply ]
Re: Tecmo Cup Football (Score: 0)
by Anonymous on Saturday, August 02 @ 14:40:14 EDT
[ Reply ]
Copyright © 1999-2002 by Genesis Collective