Bimini Run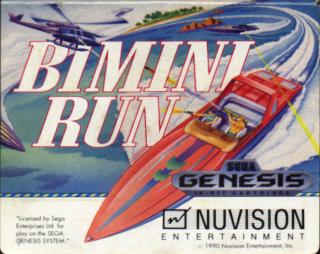 Game Genie™ Codes For Bimini Run
Download PAT File
#
Code
Description
Bimini Run(tm) is a challenging boat racing and shooting game with a good, simulator-like look and feel. Go after Dr. Orca with an insurance policy provided by BIM Code 12, which protects you against loss of boats to accidents and enemy fire. Codes 13 and 18, infinite fuel and continues, will also help a lot. Experts, make finishing this game a "10" on the challenge scale with Codes 6 and 14--one boat and no continues. When you're using Code 4, the boat speedometer may behave weirdly, but never mind.
1
ACDA-CAEJ
Start at chapter 2
2
AGDA-CAEJ
Start at chapter 3
3
ALDA-CAEJ
Start at chapter 4
4
ARDA-CAEJ
Start at chapter 5
5
AWDA-CAEJ
Start at chapter 6
6
ACDT-DA4N
Start with 1 boat
7
AGDT-DA4N
Start with 2 boats
8
BGDT-DA4N
Start with 10 boats
9
BDHA-AYB2 + BDHA-AYB8
Top speed is 80 mph instead of 93
10
FDHA-A4B2 + FDHA-A4B8
Top speed is 105 mph
11
ZDHA-A8B2 + ZDHA-A8B8
Top speed is 125 mph
12
RGVT-C6TY
Don't lose boats from accidents and enemy fire
13
RHKT-A61L
Infinite fuel supply
14
ACDA-CAB6 + ACET-CAHE
0 continues instead of 4
15
AGDA-CAB6 + AGET-CAHE
1 continue
16
ALDA-CAB6 + ALET-CAHE
2 continues
17
BGDA-CAB6 + BGET-CAHE
9 continues
18
RGJA-C60G
Infinite continues
Excerpt from Genesis Game Guide by The Scribe
NAME:             Bimini Run
AUTHOR/VENDOR:    Nuvision/Sega
RELEASED:         1990
TYPE:             Action
LANGUAGE:         English

PREMISE:          Race a powerboat though the many hazards of offshore
                  waters whilst chasing various bad guys in this arcade
                  conversion.

IMPRESSIONS:      Appears to be an offhanded nod to Miami Vice, but I hope
                  the show's producers aren't too offended.  It's pretty
                  much a waterlogged version of Thunder Blade, and about
                  as attention-grabbing.  No, come to think of it, Thunder
                  Blade held my attention longer than this.  Avoid unless
                  you are desperate for a gaming fix.

Page Viewed 1580 Times

"Bimini Run" | Login/Create Account | 2 comments
The comments are owned by the poster. We aren't responsible for their content.
Re: Bimini Run (Score: 0)
by Anonymous on Wednesday, March 24 @ 15:11:04 EST
I bought this game when it was about $20 (Although they probably never were able to charge more), thinking I was getting a good deal. It was the most monotonous piece of Sega dung. Every level was almost exactly the same. 2-player mode was a bonus; 1 player drives, the other shoots. I never was able to beat it though. And for some reason, when ever I'd have a sleep over, all of my friends would play this until 3 in the morning...
[ Reply ]
Re: Bimini Run (Score: 0)
by Anonymous on Monday, July 19 @ 15:39:46 EDT
made 1990, same year of E-SWAT, and it's very better and more fun than a faggy cyborg that dies if someone touch him...
[ Reply ]
Copyright © 1999-2002 by Genesis Collective