Landstalker - The Treasure Of King Nole (US Release)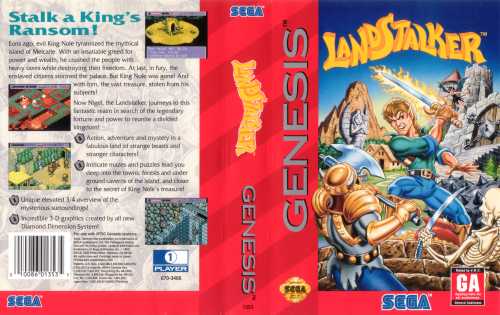 Landstalker - The Treasure Of King Nole (French Release)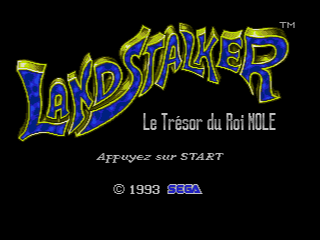 Landstalker - The Treasure Of King Nole (German Release)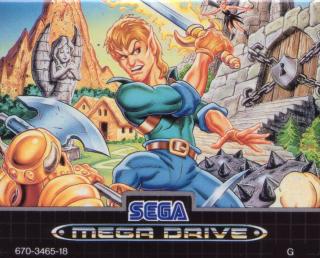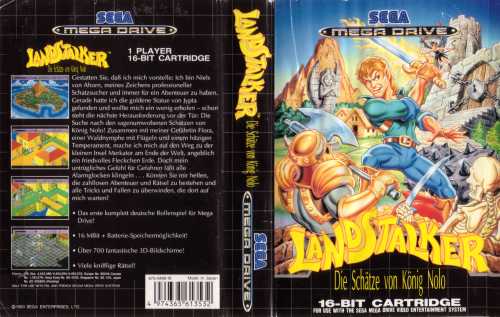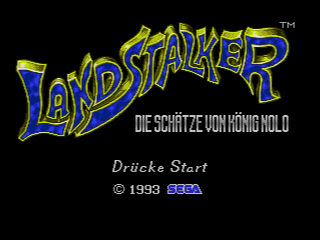 Landstalker - The Treasure Of King Nole (Japan Release)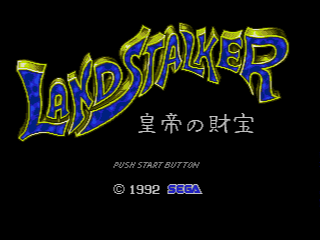 Landstalker - The Treasure Of King Nole (Beta Release)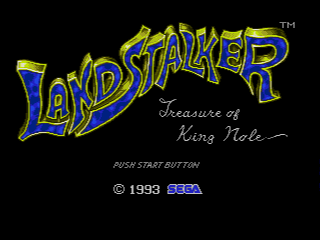 Excerpt from Genesis Game Guide by The Scribe
NAME:             Landstalker - The Treasure of King Nole
AUTHOR/VENDOR:    Climax/Sega
RELEASED:         1993
TYPE:             Adventure
LANGUAGE:         English, French, German, and Japanese versions known to
                    exist

PREMISE:          You assume the role of Nigel, an expert treasure hunter
                  just back from his latest adventure who rescues a pixie
                  from being captures and in exchange is given the general
                  location of the legendary lost treasure of King Nole.
                  From the creators of Lady Stalker - The Apocalypse Engine
                  for the SNES.

IMPRESSIONS:      Isometric-view pseudo 3D fantasy game with cute manga-
                  style characters and a nice soundtrack.  This predates
                  Lady Stalker and is supposed to be a bit more serious,
                  but the questionable English translation gets rather
                  amusing in places and I'm willing to bet the same for
                  the other Indo-European tongues.  Once you get used to
                  isometric gameplay, then it becomes one of the better
                  offerings in the fantasy genre for the G/MD.

Page Viewed 4294 Times

"Landstalker" | Login/Create Account | 8 comments
The comments are owned by the poster. We aren't responsible for their content.
Re: Landstalker (Score: 1)
by demonsweat777 on Saturday, June 30 @ 07:56:18 EDT
(User Info) http://www.angelfire.com/rpg/demonsweatroms/
Landstalker is a really huge Action/RPG. The graphics are great and very unique. Lots of great puzzles and secrets in a ton of dungeons. Lots of towns and plenty of NPC's to talk to. I really like the 3/4 overhead view and the 3D feel to the game. Last time I played this one, the game clock was at about 24 hours when I beat it, so you can assume it's a long game. The puzzles can be hard as heck sometimes, but the game is so fun you won't be put off by the challenge. This is one of the best RPG's ever made for the Genesis.
Re: Landstalker (Score: 1)
by CrossBow (crossbow@emuviews.com) on Tuesday, August 21 @ 17:58:01 EDT
(User Info)
I totally agree with Demon on this one.

The graphics are really awsome and the perspective takes some getting used to at first. But I feel like this is a psuedo 3D Zelda on the Genesis. Only the music is much catchier. As for the difficulty. That relys not on the beating the enemies, but on figuring out some of the puzzles and also the dungeons in general. I haven't beaten this game yet as I am stuck in the dungeon area just outside the dwarven town. Am I even close yet?!
Re: Landstalker (Score: 1)
by smokeDogg on Friday, January 18 @ 05:49:03 EST
(User Info)
Ooo lovin this game....
Great gfx, great music, good storyline (your out to get rich!) and a genuinely amusing script.
The only downsides are an awkward control system and some infuriating jumping puzzles (caused by the 3/4 perspective.. hello? Greenmaze? come on!)

but when it comes to adventure/rpg's this game is truly the shiznet!
Re: Landstalker (Score: 1)
by Dark_Warrior_BN on Tuesday, July 09 @ 10:07:04 EDT
(User Info)
Who the hell is Zelda - Landstalker is very very good.
Landstalker by Anonymous on Saturday, March 20 @ 02:49:49 EST

Re: Landstalker (Score: 1)
by deaddudegod on Wednesday, August 07 @ 21:52:39 EDT
(User Info)
I have to agree, this game rocks. The other notables in this genre are the Phantasy Stars, Shinig in the Darkness, Story of Thor and Pirates Gold. IMHO, anyway.
Re: Landstalker (Score: 1)
by Genesis on Tuesday, April 13 @ 18:56:23 EDT
(User Info)
I found one simple Game Genie code for this game and that is:

AV5T-CA94
Items in shops are free! (as long as you have enough
gold.) Also works at Inns. I've only tested it in a
few shops so far.

Note: You can only use this code on an emulator!
















Copyright © 1999-2002 by Genesis Collective