Jeopardy Series
Jeopardy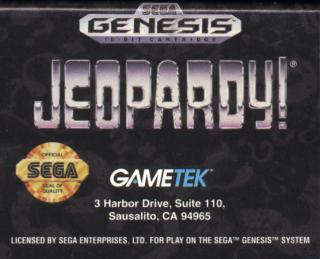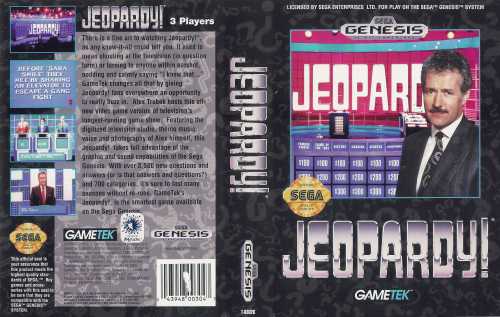 Excerpt from Genesis Game Guide by The Scribe
NAME:             Jeopardy series (3 titles)
AUTHOR/VENDOR:    Park Place Productions/Gametek
RELEASED:         1993
TYPE:             Game show
LANGUAGE:         English

PREMISE:          Digital conversion of the popular "here's the answer, now
                  come up with the question" American TV game show hosted
                  by Alex Trebek.

IMPRESSIONS:      Computerized TV game show conversions usually come up
                  short, but I'll give this one credit for making a
                  determined effort at preserving the original's sound
                  and atmosphere.  That's all, though - I'd rather watch
                  the original, and more recent versions for other
                  platforms make this look pathetic in comparison

VARIATIONS:       Jeopardy (1993, original release)
                  Jeopardy - Deluxe Edition (1993, same game, different
                    questions)
                  Jeopardy - Sports Edition (1993, same game, different
                    questions)

Page Viewed 2888 Times

"Jeopardy Series" | Login/Create Account | 2 comments
The comments are owned by the poster. We aren't responsible for their content.
Re: Jeopardy (Score: 1)
by SamuraiJohn on Wednesday, April 24 @ 16:10:05 EDT
(User Info) http://www.angelfire.com/weird/john2001
One of the best jeopardy games ive played... *DING* Jeopardy for Sega?... ohhhhhh im sorry that was not in the form of a question!... not realy this is a great jeopardy game.. its all good!
[ Reply ]
Re: Jeopardy Series (Score: 1)
by deaddudegod on Wednesday, August 07 @ 21:35:57 EDT
(User Info)
These games were never released in the UK. Thank God.
[ Reply ]
Copyright © 1999-2002 by Genesis Collective