Bugs Bunny - Double Trouble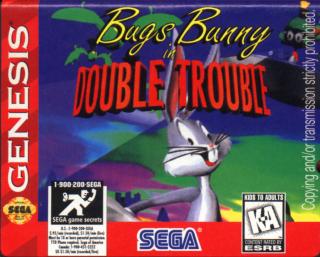 Excerpt from Genesis Game Guide by The Scribe
NAME:             Bugs Bunny - Double Trouble
AUTHOR/VENDOR:    Probe/Warner Interactive
RELEASED:         1995
TYPE:             Platform
LANGUAGE:         English

PREMISE:          One of the better entries in the many games inspired by
                  the Looney Toons, this draws upon several of those
                  classics for its plot.  Bugs Bunny has to battle his
                  own clones, not to mention all the usual mayhem as well.

IMPRESSIONS:      Graphics and animation are outstanding, but gameplay can
                  be frustrating at times.

Page Viewed 1937 Times

"Bugs Bunny - Double Trouble" | Login/Create Account | 1 comment
The comments are owned by the poster. We aren't responsible for their content.
Re: Bugs Bunny - Double Trouble (Score: 1)
by dane_martin on Sunday, April 28 @ 22:03:04 EDT
(User Info) http://danepenguin.blogspot.com
A refreshing, innovative licensed platformer, but sometimes the gameplay just gets over-the-top bizarre, causing a bit of hatred towards the various obstacles. At first glance, the game seems like your standard licensed platform fare, but it has a more puzzly/strategy feel to it than most of the titles of its type. Since it was released towards the end of its lifespan, it has very impressive graphics, about onpar with an actual cartoon. Overall, very nice, but nothing over-the-top "must play".
[ Reply ]
Copyright © 1999-2002 by Genesis Collective