Barkley Shut Up And Jam Series
Barkley Shut Up And Jam 2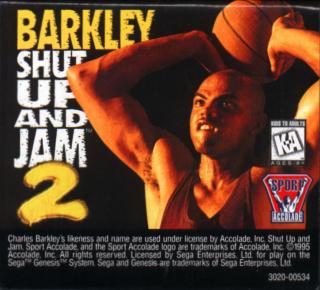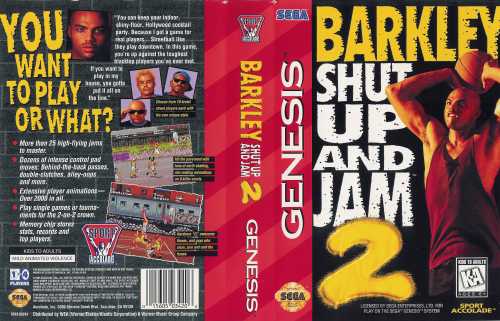 Game Genie™ Codes For Barkley Shut Up And Jam 2
Download PAT File
#
Code
Description
1
CCVA-CAHE
Get full "juice" quicker
2
J94T-C53W
Get "juice" real slowly
Excerpt from Genesis Game Guide by The Scribe
NAME:             Barkley - Shut Up and Jam series (2 titles)
AUTHOR/VENDOR:    Accolade
RELEASED:         various
TYPE:             Sports (basketball)
LANGUAGE:         English

PREMISE:          A two-on-two hoopsfest in the same mode as NBA Jam,
                  endorsed by NBA superstar Charles Barkley.

IMPRESSIONS:      Nice sound, adequate gameplay, passable graphics.  A
                  bit more serious than NBA Jam, and has a few tricks of
                  its own.  I recommend the sequel over the original, as
                  it is superior in most respects.

VARIATIONS:       Barkley - Shut up and Jam (1994)
                  Barkley - Shut up and Jam 2 (1995, nice digitized
                    graphics, significantly improved gameplay)

Page Viewed 2883 Times

"Barkley Shut Up And Jam Series" | Login/Create Account | 5 comments
The comments are owned by the poster. We aren't responsible for their content.
Barkley Shut Up And Jam (Score: 1)
by asergio on Wednesday, September 12 @ 18:08:50 EDT
(User Info)
Good game about basketball and very different to all Electronic Artsī games. You will play a two on two match on the streets (including a match on a beach in Miami I think) of different cities and after that you will play against number one Charles Barkley and his partner on the Phoenix Stadium. It is better than Jammit in the aspect that you have all the place to play instead of one basket. Good graphics, sound and gameplay.
Mark: 7,50
Re: Barkley Shut Up And Jam Series (Score: 1)
by Vintage_Gamer on Wednesday, December 12 @ 20:03:22 EST
(User Info)
Only have the first one, so I'll c0omment on that.
Pretty good 2on2 B'ball game that is a good timewaster if nothing else. The computer seems like it's overly easy at times, and the courts being different makes so it doesn't get boring too fast. If sports are your thing, give it a try. ya might like it.


Scale Score (1-10) 5.7
Re: Barkley Shut Up And Jam Series (Score: 1)
by DryGin on Wednesday, May 05 @ 13:45:42 EDT
(User Info)
I met Barkley at a golf tournament in '97 with a couple buddies. My smart-ass friend doesn't even introduce himself and says "Hey Barkley, Shut up and jam!". We started laughing and Barkley looks at us like "who are these idiots?". He was cool and signed autographs.
Copyright © 1999-2002 by Genesis Collective