BattleTech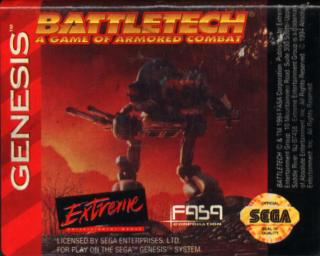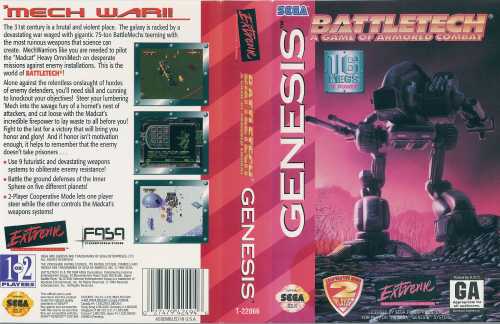 Game Genie™ Codes For BattleTech
Download PAT File
#
Code
Description
1
AXYT-CA3Y
Infinite ammo
2
AX7T-AA7L
Infinite lives
3
AMZT-CA4Y
Don't take permanent damage from enemy shots
4
AM0A-CA26
Don't take permanent damage from hitting most objects (mines, enemies, etc.)
5
ATGA-CA54
Don't lose gun from overheating it
6
AH3T-AAHL
Start with 1 life
7
AM3T-AAHL
Start with 2 lives
8
AX3T-AAHL
Start with 4 lives
9
A13T-AAHL
Start with 5 lives
10
A93T-AAHL
Start with 7 lives
11
BH3T-AAHL
Start with 9 lives
12
AD3T-AAHW
Start on mission 2
13
AS3T-AAHW
Start on mission 3
14
AM3T-AAHW
Start on mission 4
15
AX3T-AAHW
Start on mission 5
16
693T-TGHG
Max ammo for Machine Gun is 999
17
8X3T-TCHJ
Max ammo for Auto Cannon is 500
18
8X3T-TCHL
Max ammo for Inferno Missiles is 500
19
8X3T-TCHN
Max ammo for Large Laser is 500
20
8X3T-TCHR
Max ammo for Thunder Mines is 500
21
9M3T-TAHT
Max ammo for PPC is 250
22
8X3T-TCHW
Max ammo for Long-Range missiles is 500
23
9M3T-TAHY
Max ammo for Arrow Guided Missiles is 250
24
9M3T-TAH0
Max ammo for Gauss Rifle is 250
Excerpt from Genesis Game Guide by The Scribe
NAME:             Battletech
AUTHOR/VENDOR:    FASA/Malibu/Extreme/Activision
RELEASED:         1994
TYPE:             Shooter
LANGUAGE:         English

PREMISE:          Mecha-oriented isometric shooter inspired by the popular
                  RPG by FASA.

IMPRESSIONS:      The legend is now available for the Genesis.  While it
                  isn't going to touch the later first-person versions,
                  it's one of the best mecha shooter for the platform,
                  period.  Now, is it just me, or is that a Zentraedi
                  Officer's Battlepod in the opening cinema?

VARIATIONS:       Mechwarrior 3050 (alternate title)

Page Viewed 2361 Times

"Battletech" | Login/Create Account | 5 comments
The comments are owned by the poster. We aren't responsible for their content.
Re: Battletech (Score: 0)
by Anonymous on Sunday, December 08 @ 20:55:09 EST
Great game. i got into it so much. Icouldn't put it down till I beat it. i did it in 4 days. I think the graphics needed alot of work in places. But a real challenge.
Re: Battletech (Score: 1)
by Neon on Saturday, March 15 @ 06:27:11 EST
(User Info)
Fun game and not without a bit of a challenge. Love the perspective, same as the E.A. 'Strike' series. Way more of a 'Mech' feel than 'Metalhead' for the 32x. Got a couple hours to kill? This one is time well spent.
Re: Battletech (Score: 0)
by Anonymous on Saturday, October 04 @ 02:30:21 EDT
Cool game.

Put in the code for unlimited ammo, and lay waste with the heavy ordanance
Copyright © 1999-2002 by Genesis Collective