Caliber 50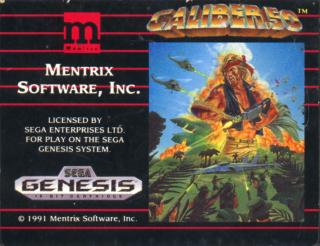 Game Genie™ Codes For Caliber 50
Download PAT File
#
Code
Description
Help Captain "Windbreak" Addis escape the jungles of Vietnam in this challenging action game. Code 7 makes you almost invincible. With CAL Code 6, infinite lives, the screen count will decrease to 0, then roll to "FF". You experts can make grenade pick-ups worth a lot less than the normal value of 10 when you use Codes 4 and 5.
1
AJBT-AA4Y
MASTER CODE--MUST BE ENTERED
2
AB9A-BE5N
Infinite grenades
3
XGHT-AAF2
Start with 99 grenades
4
AYMT-KA2L
Grenade pick-up adds 5 instead of 10
5
AEMT-KA2L
Grenade pick-up adds 1
6
AB4A-AA2Y
Infinite lives
7
RZ5T-A6YJ
Almost invincible
8
ATMT-KA2A
Power up happens 2x as fast
9
BAMT-KA2A
Power up happens 4x as fast
10
BWJA-B8WL
Start and restart with full power--normal level only
11
BGJA-B8W2
Start and restart with full power--difficult level only
Excerpt from Genesis Game Guide by The Scribe
NAME:             Caliber 50
AUTHOR/VENDOR:    Mentrix
RELEASED:         1990
TYPE:             Shooter
LANGUAGE:         English

PREMISE:          It's twenty years after the end of the Vietnam War.  Your
                  mission, should you decide to accept it, is to venture
                  forth once again on the Ho Chi Minh trail and try to
                  rescue some of the downed American airmen left behind.

IMPRESSIONS:      Okay, so it's an Ikari Warriors clone.  At least it's a
                  good one, and in some ways betters its inspiration.

Page Viewed 1694 Times

"Caliber 50" | Login/Create Account | 2 comments
The comments are owned by the poster. We aren't responsible for their content.
Re: Caliber 50 (Score: 0)
by Anonymous on Monday, November 25 @ 22:04:06 EST
A vauge reminder of Chuck Norris' Comando movies......
[ Reply ]
Re: Caliber 50 (Score: 1)
by makemedance on Wednesday, October 01 @ 13:22:23 EDT
(User Info)
Cal. 50 tries its best to represent the arcade and its violent shooter action, but it never really feels as comfortable as the arcade version. On one hand, its much easier than the arcade, but the graphics and control simply aren't the best. Fun to rent, a pain to own. I give it 4.0 out of 10
[ Reply ]
Copyright © 1999-2002 by Genesis Collective