Budokan - The Martial Spirit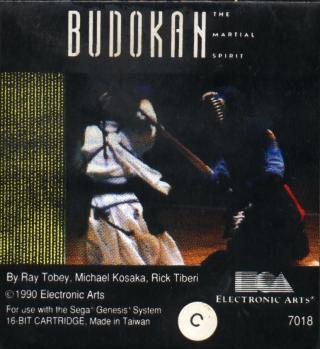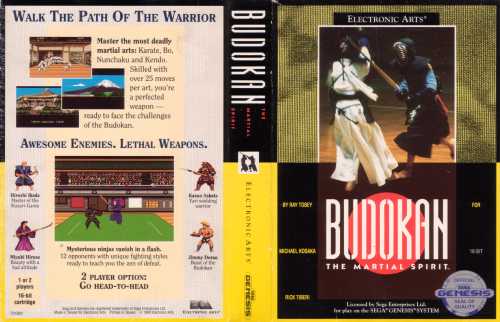 Hints For Budokan - The Martial Spirit
#
Description
1
To defeat Tetsuo Okabe (Match 5) and Miyuki Hirose (Match 8), select the Bo as your weapon. When the match begins, press A, B, or C and hold Left. You will block all of your opponent's attacks. Wait until you have maximum Ki, then strike your opponent. One hit will win you the match.
Excerpt from Genesis Game Guide by The Scribe
NAME:             Budokan - The Martial Spirit
AUTHOR/VENDOR:    Electronic Arts
RELEASED:         1990
TYPE:             Fighting
LANGUAGE:         English

PREMISE:          A street tough escaping from his latest round with the
                  law is surprised by an elderly Oriental gentleman who
                  tells him that he fights like a "headless chicken," but
                  has promise.  He then offers the tough the chance of a
                  lifetime - joining the Tobiko-Ryu Dojo and learing the
                  true path of the warrior.

IMPRESSIONS:      An early entry in the two-player beat-'em-up genre.
                  Think Jordan Mechner's Karateka with a two-player versus
                  mode but without the cool story and you begin to get the
                  idea.

VARIATIONS:       This is one of three early Electronic Arts games that
                  only work with the original version of the G/MD console.

Page Viewed 1944 Times

"Budokan" | Login/Create Account | 3 comments
The comments are owned by the poster. We aren't responsible for their content.
Re: Budokan (Score: 1)
by Genesisblackbelt on Saturday, July 13 @ 17:39:47 EDT
(User Info)
I got this before I remembered that it wou;d only work with the original Genesis.
[ Reply ]
Re: Budokan (Score: 1)
by deaddudegod on Sunday, August 04 @ 16:13:49 EDT
(User Info)
Even though I was completely crap at it I still enjoyed this game (and have spent many years looking for it!)
[ Reply ]
Re: Budokan by Anonymous on Monday, September 20 @ 15:43:18 EDT

Copyright © 1999-2002 by Genesis Collective