William's Inc. Arcade's Greatest Hits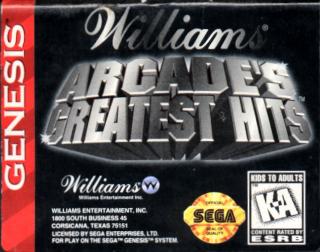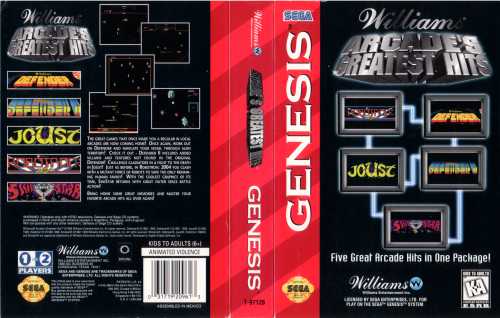 Excerpt from Genesis Game Guide by The Scribe
NAME:             Williams Inc. - Arcade's Greatest Hits
AUTHOR/VENDOR:    Williams Entertainment
RELEASED:         1995
TYPE:             Multigame
LANGUAGE:         English

PREMISE:          Williams was one of the companies that pioneered the
                  arcade game revolution, and many of its titles have now
                  become the stuff of gaming legend.  This multipack
                  includes five of their most beloved titles:  Joust,
                  Robotron 2084, Sinistar, Defender, and Defender 2 -
                  Stargate.

IMPRESSIONS:      As faithful as arcade ports can be given the porting
                  process and the limitations of the new hardware.

VARIATIONS:       This was actually the first in a series of classic
                  arcade multipacks planned for release.  The others never
                  made it beyond the discussion stage due to the death of
                  the platform; however, they are available for several
                  popular personal computers.

Page Viewed 2452 Times

"Arcade's Greatest Hits" | Login/Create Account | 4 comments
The comments are owned by the poster. We aren't responsible for their content.
Re: Arcade's Greatest Hits (Score: 1)
by SamuraiJohn on Wednesday, April 24 @ 15:52:10 EDT
(User Info) http://www.angelfire.com/weird/john2001
I love it when arcade classics hit the home console! its just soo coool! This is a great example of cool!
Re: Arcade's Greatest Hits (Score: 1)
by Whitesnake on Friday, November 08 @ 09:57:01 EST
(User Info)
i was lucky enough to play these games on there orginal machines and they are great, the big loud noises and flashes on screen are enough to make you have a fit

9/10 great faithfull ports of these orginals
Re: Arcade's Greatest Hits (Score: 1)
by SIR (steve@irving6697.freeserve.co.uk) on Tuesday, March 30 @ 19:17:42 EST
(User Info) http://Freeserve
This collection Pi*ses all over that other Arcade collection with Centipede on it - these games are faithful to the origionals the other one was slower than the Atari 2600 origionals.
Re: Arcade's Greatest Hits (Score: 0)
by Anonymous on Friday, July 09 @ 17:50:50 EDT
how exactly does robotron work without two joysticks?
Copyright © 1999-2002 by Genesis Collective