Aquatic Games Starring James Pond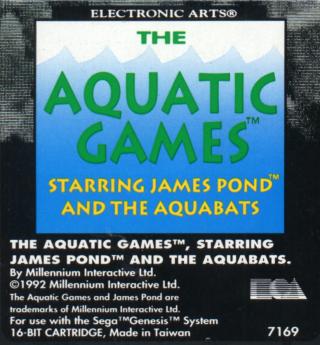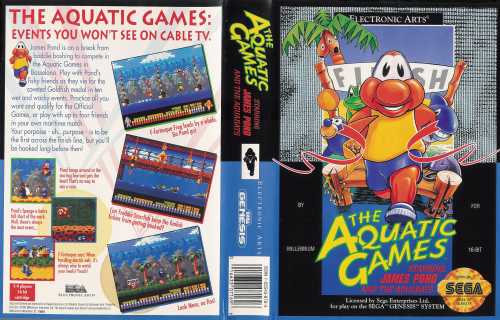 Game Genie™ Codes For Aquatic Games Starring James Pond
Download PAT File
#
Code
Description
1
RH9T-R60T
MASTER CODE-MUST BE ENTERED
2
ANMA-ACBY + ACET-AABW
1 attempt instead of 3
3
ANMA-AEBY + AGET-AABW
2 attempts
4
ANMA-AJBY + ARET-AABW
4 attempts
5
ANMA-ALBY + AWET-AABW
5 attempts
6
ANMA-ARBY + A4ET-AABW
7 attempts
7
ANMA-AWBY + BCET-AABW
9 attempts
8
AEMT-AAFY
Substitute juggling bonus event for kipper watching
9
AYMT-AAFY
Substitute long jump bonus Event for kipper watching
10
AJRA-BA2T
Bonus multiplier always 2
11
ATRA-BA2T
Bonus multiplier always 4
12
A2RA-BA2T
Bonus multiplier always 6
13
BARA-BA2T
Bonus multiplier always 8
14
1B2T-BEY0
Clock runs slower
15
1B2T-BNY0
Clock runs faster
16
1B7T-BETA
Clock runs slower
17
1B7T-BNTA
Clock runs faster
18
1B9A-BEV8
Clock runs slower
19
1B9A-BNV8
Clock runs faster
20
1CBA-BEZG
Clock runs slower
21
1CBA-BTZG
Clock runs faster
22
BLBA-AA90
Never miss qualification
23
ALBT-AA3N
Feed bag never gets empty once filled
24
SCDA-BJZA
Feed bag fills faster
25
BCDA-AAFG + BCDA-AAFR
Feed bag can be filled only half way
26
1CHT-BEVR
Clock runs slower
27
1CHT-BNVR
Clock runs faster
28
1CST-BEYJ
Clock runs slower
29
1CST-BNYJ
Clock runs faster
30
GCVT-BJX0
Style points worth double
31
GCVT-BNX0
Style points worth triple
32
GCVT-B2X0
Style points worth 6 times
33
1CXT-BEYR
Clock runs slower
34
1CXT-BTYR
Clock runs faster
35
ALXT-AA9G + ALXT-AA9Y
Never miss qualification
Excerpt from Genesis Game Guide by The Scribe
NAME:             Aquatic Games
AUTHOR/VENDOR:    Millenium/Electronic Arts
RELEASED:         1992
TYPE:             Sports (multigame)
LANGUAGE:         English

PREMISE:          Now that he's finished with the bad guys, supersecret
                  agent James Pond has decided to relax by doing his most
                  favorite thing in the whole world...alright, his SECOND
                  most favorite thing in the whole world - track and field
                  with his friends, the Aquabats!

IMPRESSIONS:      A spinoff from the James Pond trilogy of action games,
                  this tongue-in-cheek homage to the multisports sim
                  would be decent even without the aquatic theme.

Page Viewed 1662 Times

"Aquatic Games" | Login/Create Account | 4 comments
The comments are owned by the poster. We aren't responsible for their content.
Re: Aquatic Games (Score: 1)
by dane_martin on Tuesday, April 30 @ 21:39:50 EDT
(User Info) http://danepenguin.blogspot.com
A unique spin on Olympics-based games, but I just don't find myself having much fun with this. It seems rushed at points, and the games really don't hold much weight as standalone games... that isn't a good sign for a game of this kind.
[ Reply ]
Re: Aquatic Games (Score: 1)
by Genesisblackbelt on Thursday, July 11 @ 17:03:20 EDT
(User Info)
Heh, it's fun to pretend that the starfish are Patrick Star from SpongeBob Squarepants.
[ Reply ]
Re: Aquatic Games (Score: 1)
by deaddudegod on Sunday, August 04 @ 15:29:46 EDT
(User Info)
I remeber that not long before this game came out Olympic Gold by US Gold came out, which was nowhere near as much fun! I always kinda liked this game (except for a couple of events, like the hurdles!) which is odd because I normally hate sport sims!
[ Reply ]
Copyright © 1999-2002 by Genesis Collective