Berenstain Bears Camping Adventure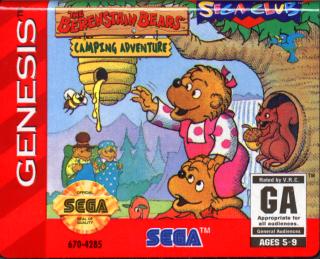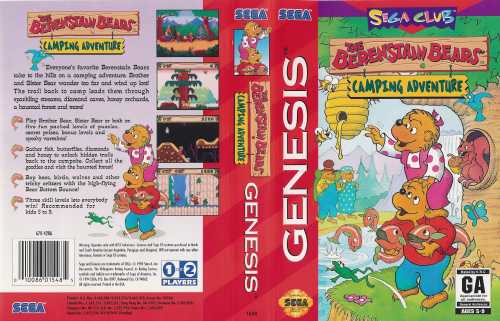 Excerpt from Genesis Game Guide by The Scribe
NAME:             Berenstain Bears Camping Adventure
AUTHOR/VENDOR:    Real Time Associates
RELEASED:         1994
TYPE:             Platform
LANGUAGE:         English

PREMISE:          This platformer for the younger set highlights the
                  adventures of the Bernstein twins as they explore the
                  wonders of the forest during a family camping trip.
                  Inspired by the popular series of children's books.

IMPRESSIONS:      Features graphics that are faithfully rendered from the
                  books, cute and appropriate sound, solid gameplay,
                  excellent design, and an above-par story for a game of
                  this type.  Shucks, even this adult-aged kid had fun
                  playing it!  Well worth the look.

VARIATIONS:       Elite trainer hack (unlimited lives/energy)

Page Viewed 1450 Times

"Berenstain Bears" | Login/Create Account | 8 comments
The comments are owned by the poster. We aren't responsible for their content.
Re: Berenstain Bears (Score: 1)
by Vintage_Gamer on Thursday, December 13 @ 01:42:16 EST
(User Info)
well, now here's a game that is refreshing!
Found it at a flea market and thought it was gonna suck. It is a very colorful game targeting childeren. the bears go camping and you can play as either the boy or girl bear. Brother bear or sister bear. You go into the woods and get points to collect stuff. basic platformer stiff here. There is a certain item you need to collect a lot of, and there are things to help you get that number,

You need to get trout on the first stage and you can get a net to help you. after you get enough you go to a bonus stage where you can get more trout. and then there is the standard "boss" at the end. In this case it's a crazy woodchuck.

Good for kids and some older people if ya wanna try something different, although some jumps need to be precice in order to not get hurt.
Re: Berenstain Bears (Score: 1)
by scool1000 on Tuesday, April 23 @ 16:12:58 EDT
(User Info)
Good game and excellent idea
Re: Berenstain Bears (Score: 1)
by dane_martin on Sunday, April 28 @ 21:57:50 EDT
(User Info) http://danepenguin.blogspot.com
This... isn't... that... bad. Don't let the odd choice of license decieve you; the game isn't horrible. It's just average. I can see some young kids really liking this, and I respect that. To top it off, this game plays nicely as a standalone title. Surprisingly decent!
Re: Berenstain Bears (Score: 1)
by SamuraiJohn on Monday, April 29 @ 10:53:38 EDT
(User Info) http://www.angelfire.com/weird/john2001
a good idea for a game.... but its a bit lacking.... not realy into kid games.. but i gave it a try... pretty decent game.... but as always there is always rooom for improvement!
Re: Berenstain Bears (Score: 1)
by Genesisblackbelt on Tuesday, July 23 @ 21:59:03 EDT
(User Info)
The Bears on the Genesis. Do they dare to suck. YES THEY DARE!!!!!!!!!!!!
Re: Berenstain Bears (Score: 0)
by Anonymous on Monday, June 02 @ 01:51:03 EDT
This game has some nice moments but I thought the gameplay was a bit repetative. I suspect a child wouldn't give this a second thought. Its definitely colorful and the parallaxing is a nice touch. The opening sequence and cutscenes are definitely worth a mention. The attention to detail taken with the characters and animations are also noteworthy. It won't be the most impressive thing you've seen but they've captured the look and feel of the license nicely. As a game artist myslef it would have been nice to see a little more effort put into the background tilesets. I should also mention that the game is very forgiving, you can take quite a few hits. So as a total package it rounds out nicely for its target audience.
Re: Berenstain Bears (Score: 1)
by SIR (steve@irving6697.freeserve.co.uk) on Sunday, July 20 @ 11:15:04 EDT
(User Info) http://Freeserve
This game is a bit of a laugh actually and I enjoyed playing it but I don't think that the little 'boy' bear had the front cover in mind when he said he was off into the forrest to look for 'some honey'.
Re: Berenstain Bears (Score: 0)
by Anonymous on Friday, October 03 @ 22:39:51 EDT
Copyright © 1999-2002 by Genesis Collective