F-22 Interceptor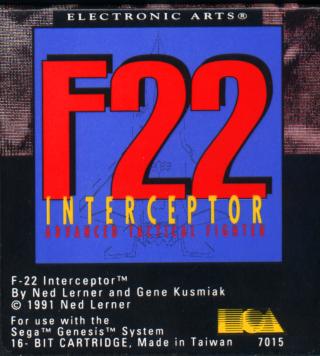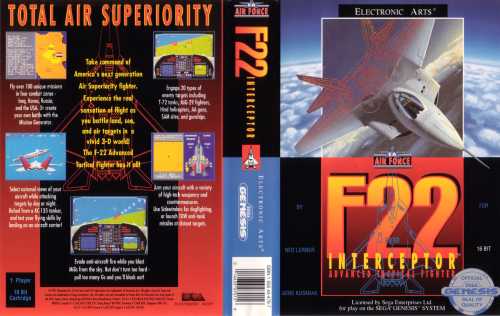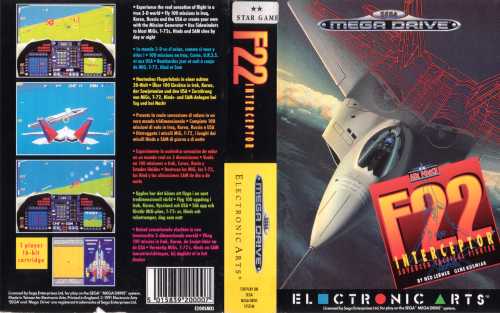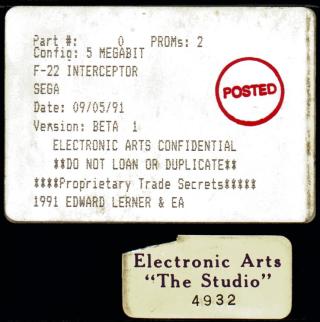 Game Genie™ Codes For F-22 Interceptor
Download PAT File
#
Code
Description
State-of-the-art flight simulation! Use these great codes to dial in lives, ammo, chaff (radar decoys) and fuel consumption.
1
RH9T-R60T
MASTER CODE--MUST BE ENTERED
2
AHAA-AAEE
Start with 2 lives
3
AMAA-AAEE
Start with 3 lives
4
AXAA-AAEE
Start with 5 lives
5
A1AA-AAEE
Start with 6 lives
6
A9AA-AAEE
Start with 8 lives
7
BMAA-AAEE
Start with 11 lives
NOTE: CODES 8 THRU 21 WORK ONLY ON USA CAMPAIGN
8
WCPA-GCA8
Start with 400 ammo
9
8WPA-GCA8
Start with 500 ammo
10
MCPA-GEA8
Start with 600 ammo
11
1WPA-GEA8
Start with 700 ammo
12
ECPA-GGA8
Start with 800 ammo
13
TWPA-GGA8
Start with 900 ammo
14
7CPA-GGA8
Start with 1000 ammo
15
FC1A-GAAG
Start with 40 chaff
16
GL1A-GAAG
Start with 50 chaff
17
HW1A-GAAG
Start with 60 chaff
18
J41A-GAAG
Start with 70 chaff
19
LC1A-GAAG
Start with 80 chaff
20
ML1A-GAAG
Start with 90 chaff
21
NW1A-GAAG
Start with 100 chaff
22
1B7T-BLYW
Fuel burns 2x faster than normal
23
1B7T-BRYW
Fuel burns 4x faster than normal
24
1B7T-BGZA
Afterburner fuel consumption 2x normal
25
1B7T-BLZA
Afterburner fuel consumption 3x normal
26
1B7T-BWZA
Afterburner fuel consumption 5x normal
27
1B7T-B0ZA
Afterburner fuel consumption 6x normal
Cheats For F-22 Interceptor
#
Type
Description
1
More Options
During your game, simultaneously press B and C. An Option screen will appear where you can select unlimited firepower, invincibility, automatic targeting, and more!
Passwords For F-22 Interceptor
#
Password
Description
Level Codes - After you have entered all four of these codes, all you have to do is land the plane and you will get a great ending with Saddam crying!
1
GT8C4A
Iraq
2
6O0A4A
USA
3
BH0B8K
Korea
4
KS6A49
Russia
5
MGG1GJ
For an added challenge, enter this code to go to the start of the Aces mission that pits you against four enemy Aces!
6
GTGAUO
Here is a quick password to get the Saddam ending by just landing the plane without doing all of the fighting.
7
GPRJCM
Face an aerial onslaught of F-22's, KC-135's and MIGs.
Excerpt from Genesis Game Guide by The Scribe
NAME:             F-22 Interceptor
AUTHOR/VENDOR:    Sega
RELEASED:         1991
TYPE:             Flight simulator (military)
LANGUAGE:         English

PREMISE:          Hop a ride on the U.S. Air Force's choice for its 21st
                  century air superiority fighter - the F-22.  Your choice
                  of three different skill levels at which to play.

IMPRESSIONS:      Jeez, what crap!  This looks like somebody unearthed the
                  original version of subLogic's Jet, took some coloring
                  pencils to it, and ported it to the Genesis.  The
                  polygonal graphics engine is the worst I've ever seen in
                  this kind of game, and sound is minimal at best.  Only
                  useful as a trainer for better flight sims - no, in fact,
                  ANY other flight sim.

Page Viewed 1685 Times

"F-22 Interceptor" | Login/Create Account | 3 comments
The comments are owned by the poster. We aren't responsible for their content.
Re: F-22 Interceptor (Score: 0)
by Anonymous on Monday, March 04 @ 22:56:04 EST
I really enjoyed this game and it's interissing how a Genesis do 3D polygonal graphx without ANY additional hardware while the SNES can only beat with the SuperFX chip!! What you choose?? Virtua Racing or Stunt Racer??
[ Reply ]
Re: F-22 Interceptor (Score: 1)
by Genesis on Saturday, February 28 @ 11:25:56 EST
(User Info)
The graphics look bad but it looks like a pretty cool game.
[ Reply ]
Copyright © 1999-2002 by Genesis Collective