Ball Jacks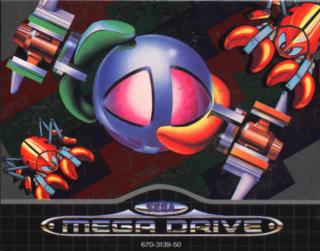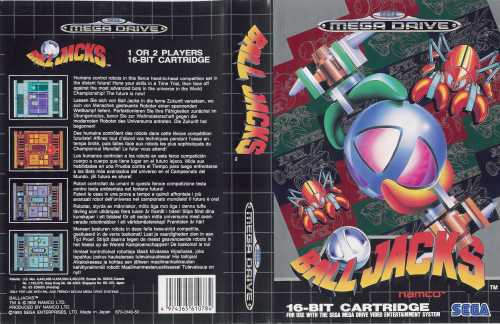 Excerpt from Genesis Game Guide by The Scribe
NAME:             Ball Jacks
AUTHOR/VENDOR:    Namco
RELEASED:         1993
TYPE:             Ball and paddle
LANGUAGE:         English

PREMISE:          The game of Ball Jacks was invented in AD 7650 as a
                  worldwide televised gameshow, where contestants battled
                  for top honors with life-sized equipment.  Thankfully,
                  you can save your life and experience the home computer
                  verison instead....

IMPRESSIONS:      A confusing combination of Pong and Breakout which didn't
                  hold my interest for long.  Still, I can see how someone
                  might like the game.

Page Viewed 1535 Times

"Ball Jacks" | Login/Create Account | 6 comments
The comments are owned by the poster. We aren't responsible for their content.
Re: Ball Jacks (Score: 1)
by Daniel on Thursday, August 23 @ 16:52:58 EDT
(User Info) http://danneeriksson.freeyellow.com/Index.html
This game is cool! It is really different but that is just great! It is very fun to play against a human player! And the grafics are cool, especially the light effects that are here and there, and the cool menus! A really good game actually.
Re: Ball Jacks (Score: 1)
by scool1000 (69@x.com) on Wednesday, April 24 @ 18:13:55 EDT
(User Info)
a good game with exceptionally good graphics


Re: Ball Jacks (Score: 1)
by SamuraiJohn on Monday, April 29 @ 10:47:11 EDT
(User Info) http://www.angelfire.com/weird/john2001
a bit too confuseing for me.. if only roms had instructions.... but i can manage.. graphics are good, but the play factor is a wee bit low...
Re: Ball Jacks (Score: 0)
by Anonymous on Sunday, November 03 @ 19:06:35 EST
great game graphicaly, gameplay wise, and very orginal from the great namco
Re: Ball Jacks (Score: 1)
by Whitesnake on Friday, November 08 @ 09:59:59 EST
(User Info)
this game is addictive as hell when you gather the quick concept and gameplay, and if that was not enough it gets harder and harder and keeps you playing for hours.

9/10 very original puzzle battle game
Re: Ball Jacks (Score: 0)
by Anonymous on Monday, November 29 @ 11:50:19 EST
GHSKDOCLDMDLD DKCCC..CVKVCKVC? LCLV KC?VLCLVCVMC%VMVMLVKVIUCIDFHFYHFTGHHHDJKCKCNCKVJJNVJDBHBHDBVBNVNCHHHHHHHHHHVKCVKCKJJKC?KVKCJCVJCVCVN?JFHFKCIVLOCLFJKFJCJGFHFH K .255987512101021223134GKKGKIBKBKGBBKBG?KBG 32107323216546946836525555555555555555555555555555555555555555JCVVNJFVJFHJFVNVNJN NJ ?V V?FJFUFNUFNJVNFJFJNVFF? ?VFNJFUFVHUNVFJVFNUVFHJVNJFNVJJKNOFNBGBGIUFJKLJKJ?.V.L?KVVVVVVVVVVVVVVVVVVVVVVVVVVVVVVVVVVVVVVVVVVVVVVVVVVVVVVVVVVVVVVVVVVVVVVVVVVVVVVVVVVVVVVVVVVVVVVVVVVVVVVVVVVVVVVVVVVVVVVVVVVVVVVVVVVVVVVVVVVVVVVVVVVVVVVVVVV
KDJKDKLFKLFKLL



Copyright © 1999-2002 by Genesis Collective