Aero The Acrobat Series
Aero The Acrobat 2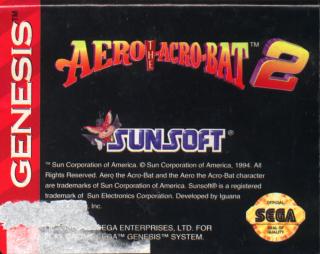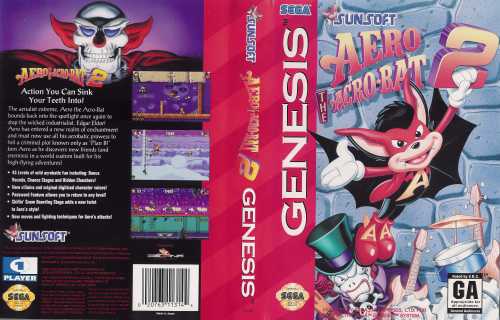 Cheats For Aero The Acrobat 2
#
Type
Description
1
Level Select
At the Options screen, select the Sound Test and play the following sounds in this order: 8, 4, 19, 70 (press A to play each sound). The screen will flash. Exit the Options screen and begin a new game. Pause the game and simultaneously press and hold Down, A, and C. A Level Select screen will appear.
Excerpt from Genesis Game Guide by The Scribe
NAME:             Aero the Acrobat series (3 titles)
AUTHOR/VENDOR:    Iguana/Sunsoft
RELEASED:         various
TYPE:             Platform
LANGUAGE:         English

PREMISE:          Introducing our three chief protagonists:  Aero the
                  Acrobat, a daredevil bat who is the star of the circus;
                  Edgar Ektor, clown prince and mean guy extraordinare; and
                  Zero the Kamikaze Squirrel, Ektor's chief henchman whose
                  sense of duty and loyalty seem strangly misplaced.

IMPRESSIONS:      Probably the most concerted effort by a software house
                  in cloning the success of the Sonic series.  Gets old
                  fast, ridiculous in places, but you never lack for
                  action.  I'm told that these games sold by the bucketful
                  when they were first released, so Sunsoft's strategem
                  musta worked.

VARIATIONS:       Aero the Acrobat (1993, first in the series, has a
                    really annoying circus music soundtrack)
                  Aero the Acrobat 2 (1994, sequel to the original, with
                    a new plot and less offensive music)
                  Zero the Kamikaze Squirrel (1994, spinoff that gives Zero
                    the chance to play hero for a change - the best of
                    the series, it compares well with the original Sonic
                    in its own way)

Page Viewed 6348 Times
"Aero The Acrobat Series" | Login/Create Account | 6 comments
The comments are owned by the poster. We aren't responsible for their content.
Re: Aero The Acrobat 2 (Score: 1)
by Genesis on Friday, February 27 @ 23:42:32 EST
(User Info)
This game is so fun but I only got to level 3 though but I like it!
Re: Aero The Acrobat Series (Score: 1)
by Sparxster (webmaster@rocketknight.com) on Tuesday, November 20 @ 22:53:04 EST
(User Info) http://www.geocities.com/sparkster5233/index.html
I think people are overdoing it by calling some games "sonic clones." it seems any game with characters capable of moving fast must be trying to copy sonic. liers. Anyway, i enjoyed this series. I am aware there is a zero the kamikaze squirrel 2 somewhere but im not sure if its on genesis or snes...
Re: Aero The Acrobat Series (Score: 1)
by PACHUKA (egray@!nospam!-3do.com) on Sunday, February 03 @ 18:56:16 EST
(User Info) http://www.cultchyldren.com
Call me a purist, but this is just another pretty side scroller with no content. Not very impressive.
Re: Aero The Acrobat Series (Score: 0)
by Anonymous on Sunday, March 10 @ 13:04:55 EST
WHAT IS THE KEY TO THE LAST BOARD TO SHUT OFF THE ELECTRICITY?
Re: Aero The Acrobat Series (Score: 1)
by dane_martin on Sunday, April 28 @ 18:53:53 EDT
(User Info) http://danepenguin.blogspot.com
There are endless clones of the Sonic the Hedgehog series for the Sega Genesis. This is yet another failed attempt, featuring effortless, bland level design, been-there-done-that graphics, and the overall premise causes a yawn or two. I appreciate a decent platformer, even clones of the Sonic series, but this one definitely does not earn my respect. Stay far away from dear old Aero.
Re: Aero The Acrobat Series (Score: 0)
by Anonymous on Monday, August 12 @ 14:57:43 EDT
One of the most enjoyable characters I've ever seen hit both Nintendo and Sega. Aero's drill attack is interesting, and his animations and voice in the second game are better then Micky Mouse. Sadly, this game is largely disrespected as a Sonic clone(If that were the case, don't you think Aero would be faster?) or "Just another platform game" (As if there was anything wrong with platform games to begin with.), and those who think this often shut their eyes to the true beauty of the game. It's a real challange- with enemies galore and very little allowance for mistakes in the latter levels.
May Aero and Zero one day be recognised for what they are...