F-15 Strike Eagle 2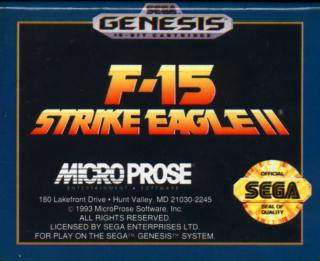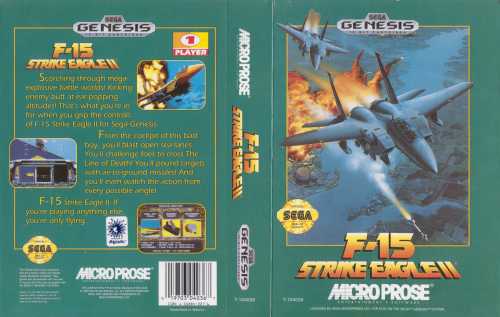 Cheats For F-15 Strike Eagle 2
#
Type
Description
1
Re-Supply
From the Options menu, select "See Credits." At the credits screen, press UP, LEFT, DOWN, RIGHT, UP, RIGHT, DOWN, LEFT, UP. If you did this right, you'll hear a fanfare. Start the game, and you'll see a new "Re-Supply" enter in your in-flight options menu. Use it to max out your weapons, fuel and decoys.
Excerpt from Genesis Game Guide by The Scribe
NAME:             F-15 Strike Eagle 2
AUTHOR/VENDOR:    MicroProse
RELEASED:         1993
TYPE:             Flight simulator (military)
LANGUAGE:         English

PREMISE:          The 8-bit classic roars back to life in a new 16-bit
                  version loaded with the fast action and vivid graphics
                  that were the trademark of the original.  Enhancements
                  include all-new 3D solid polygon graphics, a quarter of
                  a million square miles of authentic terrain divided among
                  four battle zones, streamlined flight and weapons
                  control, a new "no crash" option, and true distance
                  scaling.  In the words of Computer Shopper (1990), "This
                  may be the best air-combat simulator you've ever flown."
                  Ported from the home computer version.

IMPRESSIONS:      So much had to be recoded and reduced in order to port
                  this to the Genesis that the end result is pretty much
                  useless.  It's kinda hard to have a full-blown flight
                  sim that runs off of a three-button gamepad.  No thanks -
                  I'll take the personal computer version, because at least
                  then I can get at all the controls.  It's a shame, you
                  know, because this was one cool military fighter sim in
                  its day.

VARIATIONS:       "MPS Labs" version (this appears to be a beta release,
                    with different opening screens and no sound)
                  "Sega" version (this is the commercial release version as
                    most of us know it)

Page Viewed 1474 Times

"F-15 Strike Eagle 2" | Login/Create Account | 1 comment
The comments are owned by the poster. We aren't responsible for their content.
Re: F-15 Strike Eagle 2 (Score: 1)
by Genesis on Saturday, February 28 @ 11:27:29 EST
(User Info)
This game looks pretty cool to me.
[ Reply ]
Copyright © 1999-2002 by Genesis Collective