Death Duel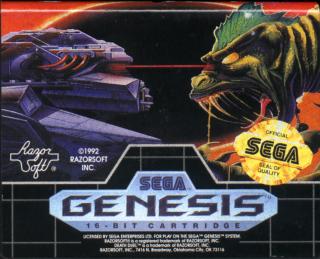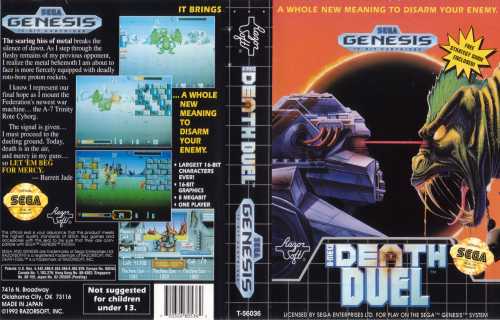 Excerpt from Genesis Game Guide by The Scribe
NAME:             Death Duel
AUTHOR/VENDOR:    Razor Soft
RELEASED:         1992
TYPE:             Shooter
LANGUAGE:         English

PREMISE:          Drive around a big bad mecha and use the weapons at your
                  disposal to blow up various bad guys hiding behind all
                  sorts of obstacles.

IMPRESSIONS:      Yawn.  I suppose this game must have been made with the
                  Menacer light gun in mind, because gameplay sucks using
                  a gamepad - and it's not all that great a game, either.

Page Viewed 1964 Times

"Death Duel" | Login/Create Account | 7 comments
The comments are owned by the poster. We aren't responsible for their content.
Re: Death Duel (Score: 0)
by Anonymous on Saturday, January 05 @ 11:35:30 EST
A different sort of shooting game with loads of content and strategy. A must for all action / gun fans!
Re: Death Duel (Score: 0)
by Anonymous on Saturday, January 19 @ 23:20:53 EST
This has to be one of my favorite genesis games ever. You get a first person view like mechwarrior but you fight one-on-one duels with enemies like big mutants. The best feature of this game is the fact that you can shoot off the beast's arms and legs and they bleed all over! When you shoot their little bloody stumps they bleed even more! The funnest gore you can find. Much thanks to genesis collective in helping me locate this favorite of mine.
Re: Death Duel (Score: 1)
by scool1000 (69@x.com) on Tuesday, April 23 @ 21:48:04 EDT
(User Info)
mostly a shoot and kill kinda of game. Could have better graphics and the play is so-so
Re: Death Duel (Score: 0)
by Anonymous on Monday, July 15 @ 22:29:47 EDT
It's a pretty strategic game. It's deceiving in fact how strategic it is. I beat it years ago when it was first released and loved every minute of it. I'm currently hunting down a copy to relive the coolness.
Copyright © 1999-2002 by Genesis Collective