Prince Of Persia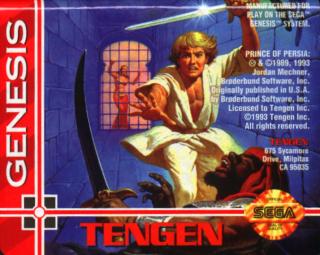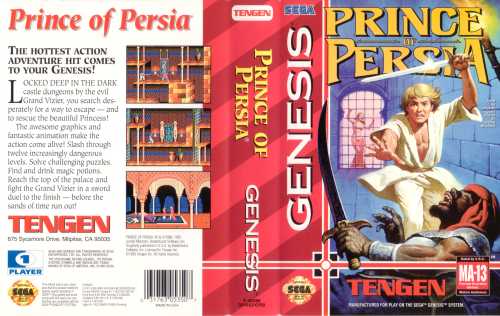 Passwords For Prince Of Persia
#
Password
Description
1
QYZUSR
Level 2
2
QYZHRM
Level 3
3
QYZUPH
Level 4
4
QYZHOC
Level 5
5
QYZUMX
Level 6
6
QYZHLS
Level 7
7
QYZUJN
Level 8
8
QYZHII
Level 9
9
QYZUGD
Level 10
10
XOPCHS
Level 11
11
EUUTAA
Level 12
12
QYZHCO
Level 13
Excerpt from Genesis Game Guide by The Scribe
NAME:             Prince of Persia
AUTHOR/VENDOR:    Broderbund/Domark
RELEASED:         1993
TYPE:             Platform
LANGUAGE:         English

PREMISE:          As the dashing young Arabian hero, you must rescue your
                  love - the sultan's daughter - from a forced marriage to
                  the evil vizer.  It's not going to be easy, though - the
                  vizer has gotten wind of your plans and had you
                  imprisoned in the deepest dungeons of the palace.  Can
                  you escape, fight your way through his guards, and defeat
                  the vizer before time runs out?  An updated version of
                  the classic 8-bit original by Jordan Mechner.

IMPRESSIONS:      Great graphics and animation, and the swordfighting
                  sequences are cool.  It's too bad that the need to plan
                  each move gets tedious after a while.  However, if you
                  don't mind the sluggish gameplay and occasional
                  frustration, then it can be quite fun. (Rage Games)

VARIATIONS:       The sequel, The Shadow and the Flame, was apparently not
                  released for this platform.

Page Viewed 2363 Times

"Prince Of Persia" | Login/Create Account | 3 comments
The comments are owned by the poster. We aren't responsible for their content.
Prince of Persia....ah the memories (Score: 1)
by Hiryu on Thursday, June 28 @ 18:35:53 EDT
(User Info) http://www.romfinders.net
Jordon Mechner made this game originally for the pc. And with it he created a whole new genre of action/adventure games that have spawned many alterations(tomb raider anyone?) A great mix of run and "precision" jumping and sword fighting reminisent of Pirates! The genesis version is pretty good, but the clear winner has always been the snes version with it's 20 levels and different look. But the genesis one is descent enough, nice little music and graphic effects. I give it an 8.

Prince of Persia 2 was released on pc and snes, but wasn't done by jordon mechner, so it's not as good. But it's descent. And I have yet to play Prince of Persia 3d, but I hear it's like Tomb Raider( I wonder why, heh)

[ Reply ]
Re: Prince Of Persia (Score: 1)
by kuzma on Tuesday, March 04 @ 10:57:09 EST
(User Info)
Super passwords
With these passwords you can start on each level having 8!!! elements of energy and plenty of time:

1.QYZSVI 2.QYZFUD 3.QYZSSY 4.QYZFRT 5.QYZSPO 6.QYZFOJ 7.QYZSME 8.QYZFLZ 9.QYZSJU
10.QYZFIP 11.QYZSGK 12.QYZFFF 13.QYZSDA

To make prince hover while fallin down press :START C,A,B,B,B,B
To lift up the falling bars press:START B,A,C,A,A,C
To make prince invincible while fighting with the guards you have to enter one of those passwords:

1.QYZQYZ 2.QYZDXU 3.QYZQVP 4.QYZDUK 5.QYZQSF 6.QYZDRA 7.QYZQPV 8.QYZDOQ 9.QYZQML 10.QYZDLG 11.QYZQJB 12.QYZDIW 13.QYZQGR
[ Reply ]
Copyright © 1999-2002 by Genesis Collective