Barney's Hide And Seek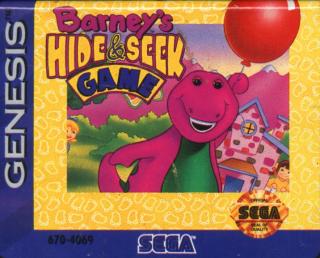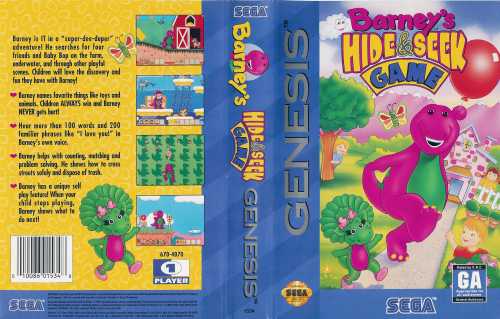 Excerpt from Genesis Game Guide by The Scribe
NAME:             Barney's Hide and Seek Game
AUTHOR/VENDOR:    Lyon Group
RELEASED:         1993
TYPE:             Platform
LANGUAGE:         English

PREMISE:          Help Barney the dinosaur find his missing friends in
                  this game inspired by the hit PBS children's TV series.

IMPRESSIONS:      Oh GOD, it's the !@#*@$! purple dinosaur thingey,
                  complete with sampled dialogue!  Only for Barney
                  masochists, but the preschool crowd seems to think it's
                  a swell game, too.  No wonder American kids are growing
                  dumber with each passing year.  Sigh....

Page Viewed 2010 Times

"Barney" | Login/Create Account | 9 comments
The comments are owned by the poster. We aren't responsible for their content.
Re: Barney (Score: 1)
by Sparxster (webmaster@rocketknight.com) on Tuesday, November 20 @ 22:31:54 EST
(User Info) http://www.geocities.com/sparkster5233/index.html
There's a reason the kids are hiding from barney. this holocaust-like game is for mass murderers only. please take some advice from the children and stay away from it before barney gets YOU!
Re: Barney (Score: 1)
by PACHUKA (egray@!nospam!-3do.com) on Sunday, February 03 @ 19:13:58 EST
(User Info) http://www.cultchyldren.com
I hate barney. However, this game is good for younger children who just can't handle control setups. Very easy to learn, very easy to operate, and very colorful. And filled with that purple goodness you can only get from barney. Toothaching good.
Re: Barney (Score: 1)
by scool1000 on Tuesday, April 23 @ 16:08:28 EDT
(User Info)
this game really stinks. it is stupid
Re: Barney (Score: 1)
by neem_numb on Friday, May 31 @ 04:14:02 EDT
(User Info) http://www.feck.net
Barney is the cause of the problems with todays youth. He needs to be burnt alive.

(Actually on of the funniest things I saw was a Creationist website that actually blamed Barney for forcing an evolutionary message on to young kids!)
Re: Barney by Sparxster on Thursday, January 22 @ 17:43:33 EST

Re: Barney (Score: 1)
by Genesisblackbelt on Tuesday, July 16 @ 17:47:11 EDT
(User Info)
Heh, a great babysitting game. Just pop it in a nap. the parents will come home and never realize you slept.
Re: Barney (Score: 0)
by Anonymous on Saturday, April 12 @ 08:07:10 EDT
ntsc to pal genesis code R E B T A 6 A W
lets us in the uk see what all the fuss about poor barney is about(my kids luv him)
Re: Barney (Score: 1)
by SIR (steve@irving6697.freeserve.co.uk) on Tuesday, August 12 @ 12:04:38 EDT
(User Info) http://Freeserve
This game plays not too badly, though what worries me is Barnies intentions.
I mean a purple dinosaur teaching children counting and things.
I think that he either wants to eat the kids or something more 'sinister'.
I am currently working out the motives behind 'teletubbies'
Re: Barney (Score: 1)
by Gens1 on Monday, December 29 @ 10:50:46 EST
(User Info)
i love you, you love me where a happy family,with a great big hug and a kiss from me to you, won't you say you love me too!!!!!!!
Copyright © 1999-2002 by Genesis Collective