Ariel The Little Mermaid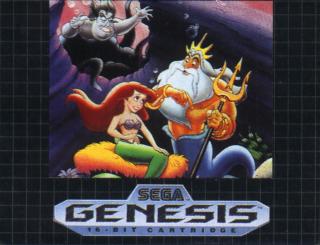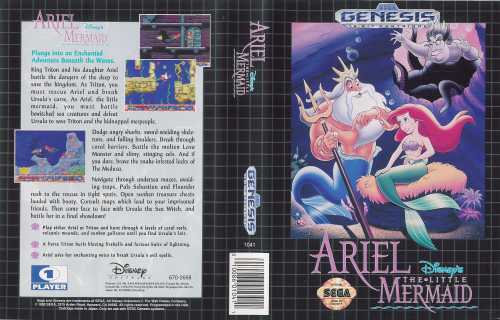 Excerpt from Genesis Game Guide by The Scribe
NAME:             Ariel - The Little Mermaid
AUTHOR/VENDOR:    Blue Sky/Magical/Disney
RELEASED:         1990
TYPE:             Platform
LANGUAGE:         English

PREMISE:          Relive the magic of the animated Disney classic in this
                  game based on the original story by Hans Christian
                  Anderson.  Ariel, a young mermaid and the daughter of
                  King Triton, falls in love with a human prince.  To win
                  him, she must thwart the wiles of the evil sorceress
                  Ursula, who plans on using her quest to take over the
                  undersea kingdom and oust Triton.

IMPRESSIONS:      One of Disney's early arcade conversions and somewhat
                  different than the SNES version.  It's okay, but pales
                  next to their other releases.  Great graphics and
                  gameplay make this worth the look.  Tell your friends
                  that you got it for your little sister. (Rage Games)

VARIATIONS:       Also referred to as The Little Mermaid, which is the
                  name of the NES version.

Page Viewed 3657 Times

"Ariel" | Login/Create Account | 4 comments
The comments are owned by the poster. We aren't responsible for their content.
Re: Ariel (Score: 1)
by PACHUKA (egray@!nospam!-3do.com) on Sunday, February 03 @ 19:01:10 EST
(User Info) http://www.cultchyldren.com
This is actually really good, it gives Ecco a run for it's money in the beautiful water graphics department.
Re: Ariel (Score: 1)
by SamuraiJohn on Wednesday, April 24 @ 16:06:13 EDT
(User Info) http://www.angelfire.com/weird/john2001
yes.. i played it.. and im a guy... its almost like ecco.. but less cooler.. i dont care much for many disney games....
Re: Ariel (Score: 1)
by SIR (steve@irving6697.freeserve.co.uk) on Sunday, March 28 @ 16:51:36 EST
(User Info) http://Freeserve
This one isn't that much of a challenge yet it is still fun to play and quite enjoyable when your head is mashed from playing too many shooters.
Re: Ariel (Score: 0)
by Anonymous on Wednesday, September 22 @ 20:55:49 EDT
Its ok...The type of game you only play when your Drunk or Stoned....got my copy off ebay for 2.56-it was worth it:-o
Copyright © 1999-2002 by Genesis Collective